Opinion:

why we have nothing but admiration for Nico Rosberg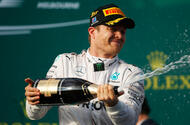 Nico Rosberg has officially retired from Formula 1 just days after winning the title
It's hard to feel anything but admiration for Nico Rosberg, who has announced his retirement just five days after clinching the Formula 1 World Championship title he's been working almost his entire life for.
Read more about Rosberg's departure from Formula 1 here
It's an incredibly brave thing to do. It's not possible to compete at such a level without immersing yourself entirely in the job at hand. Your thought processes, your emotion, your physicality, your home life, your ego, your confidence, your skillsets, your ability and your reputation all go through a public examination the likes of which most of us could never begin to imagine, never mind experience.

Formula 1 drivers are not motivated by money. Personal finance has two functions: to pay for your drive/fund your team, or to measure your worth when you reach the upper echelons. It is not what motivates the competitive spirit, nor is it the driving factor in those seemingly infinite, miniscule reactive on-track decisions that determine success and failure.
To put together a campaign over 21 races and come out ahead of arguably the best driver of the modern era, in the same car, is an extraordinary achievement.
In Rosberg's acutely intelligent mind, this is an achievement unlikely to be repeated without super-human levels of effort and sacrifice. And you have to ask yourself, without misfortune colliding with Lewis Hamilton's own plans such as it did in Australia, China, Spa, Malaysia and elsewhere this year, whether it could be done again.
But ignoring that for a second, it takes courage to walk away from something you love, something that has been second nature for so long. F1, and racing, can become an emotional crutch by which you measure other aspects of your life. It's not possible to know for sure whether the other dreams you have in life can fill the void. Plus, most world champions can't fail to be bewitched by the seductive emotion of winning a title. Passing through that exclusive invisible wall gives you something extra the others don't have. And when you're wired to win, that's difficult to turn your back on.
Mika Hakkinen once told me in an interview for Autosport how winning his first world championship in 1998 changed his entire mental approach, but he admitted it came at a cost. Speaking about having to fight it out against Michael Schumacher right to the end of that season, like Rosberg did his year with Hamilton, the Finn said: "That last grand prix, in that one day you can lose the whole year, and there is no second chance. There is no next weekend. You lose everything.
"The pressure is so big you don't know where to go, so you really have to go into yourself.
"You have to really start talking to yourself, because the bustle around you is amazing in a moment like that. So the level of how you handle the pressure and control your mind becomes so high, so it is an advantage over other drivers who haven't won it."
Rosberg is giving it up. Walking away. Full in the knowledge that he is reigning world champion, and at 31 securely employable for at least five more years.
"I have climbed my mountain, I am on the peak, so this feels right," he said, after announcing the decision at the FIA world championship prize-giving. "This season, I tell you, it was so damn tough. I pushed like crazy in every area after the disappointments of the past two years; they fuelled my motivation to levels I had never experienced before.
"And of course that had an impact on the ones I love, too – it was a whole family effort of sacrifice, putting everything behind our target. I cannot find enough words to thank my wife Vivian; she has been incredible. She understood that this year was the big one, our opportunity to do it, and created the space for me to get full recovery between every race, looking after our daughter each night, taking over when things got tough and putting our championship first. 

"When I won the race in Suzuka, from the moment when the destiny of the title was in my own hands, the big pressure started and I began to think about ending my racing career if I became world champion. On Sunday morning in Abu Dhabi, I knew that it could be my last race and that feeling cleared my head before the start."
When you read that back, it puts in perspective just how ballsy that move on Max Verstappen for second place in Abu Dhabi actually was. Had it ended in contact, everything Nico has worked for would have been gone. No more chances.
And then the pressure Hamilton put Rosberg under at the end of race, backing him into Sebastian Vettel and Verstappen while running second when third was what he needed to win the title, now seems considerably more immense when taken in context with the demons that would have been raging within his helmet. Under those circumstances it was a stunning demonstration of mental strength and skill under pressure.
"I wanted to enjoy every part of the experience, knowing it might be the last time… and then the lights went out and I had the most intense 55 laps of my life," he said.
Rosberg has always been a classy guy. He's always made time for the media, always given his best and stood by his position, right or wrong, and always maintained his dignity in spite of that most relentlessly ridiculous situation: being the British driver's enemy, according to Fleet Street. His refusal to give up, his car dying beneath him as he fought for the world championship against Hamilton in 2014, and fighting again in the Abu Dhabi finale, was a testament to a character that has always seemed fairly obvious to most.
Now he gets to walk away on top, unbeaten. This strikes me as a classy decision, in a sport that so often serves up a disappointing alternative. I salute you Nico, here's to the next great adventure.
Source: Car
Write

a Comment
Fields with * are required