Pagani

Huayra Roadster preview images released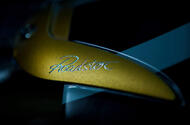 Murky preview images show fragments of the Pagani Huayra Roadster; we'll have to wait until the Geneva motor show to get our first full look
The Pagani Huayra Roadster will be unveiled at the Geneva motor show in March, the hypercar maker has confirmed.
Two images of the Huayra Roadster have been released from the brand's social media channels, showing small details on the car, with the confirmation of the car's Geneva show appearance in the hashtags and captions.
The hardtop Huayra is powered by Pagani's bespoke 6.0-litre twin-turbo V12, producing 730bhp and 738lb ft, and it's very likely that the Huayra Roadster will share this engine in unaltered form.
Pagani's previous Roadster, the Zonda Roadster, weighed five kilos more than its hard-top counterpart, so it's very likely that the Huayra Roadster will closely match the weight of the coupé, at 1350kg.
Pagani released no details with the images, but the Huayra is built at a rate of just 40 per year, so it's expected that the Huayra Roadster will be built in even smaller numbers, and that it will add to the Huayra's £666,000 price tag.
The similar power and weight to the standard car means its 3.2sec 0-62mph sprint and 230mph top speed will also be closely matched. 
Pagani's last unveiling was the Huayra BC at last year's Geneva motor show.
Source: Car
Write

a Comment
Fields with * are required