Range

Rover and Discovery Sport to get hybrid power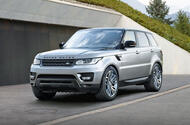 Powerful plug-in petrol-electric system and a three-pot diesel mild hybrid are in the pipeline
Jaguar Land Rover is working on two more hybrid systems to be rolled out across its model range.
The first is a plug-in hybrid for larger models such as the Range Rover Sport, and the second is a mild hybrid for the smaller Evoque and Discovery Sport models.
Developing plug-in hybrids alongside electric vehicles makes sense for JLR, because PHEVs will become relatively mainstream sooner than EVs. Their take-up will only be sped up by increasing traffic restrictions in cities such as London and a crackdown on tailpipe pollution.
Although Land Rover has been selling a Range Rover V6 diesel hybrid since 2013, it is working on an all-new plug-in hybrid powertrain that is based around a new 295bhp four-cylinder Ingenium petrol engine.
According to an engineering presentation last year, the company decided to build its own hybrid electric motor. However, the new Electric Drive Module (EDM) had to fit into the structure of the existing Range Rover model line-up and mate up with an eight-speed ZF automatic gearbox.
It's expected that the system will also be used in future versions of the Jaguar F-Pace as well as the XF and future XJ models.
The battery pack is packaged under the boot floor, although its capacity has not yet been confirmed. To be competitive, future JLR plug-in hybrids will need to have a real-world EV-only range of more than 20 miles and probably nearer 30 miles.
Even though JLR engineers had to fit the new EDM into a space just 162mm long, it still develops 201bhp and 332lb ft of torque. These figures are significantly above the output of the 113bhp electric motor in the current BMW X5 xDrive40e, which would be the hybrid Range Rover's closest rival.
The BMW has a claimed 0-62mph time of just 6.5sec, which leaves the way open for even more performance from the electrified Range Rover, which will most likely be launched late next year.
JLR's second hybrid project is classed as a mild hybrid electric vehicle (MHEV) and is based around the transverseengined platform used for the Evoque and Discovery Sport.
This 'production-intent' project is technically more complex than the one for the Range Rover because it uses both a new EDM and a prototype three-cylinder Ingenium diesel engine equipped with an electrically powered turbocharger. This prototype also has a 48V electrical system that powers the water pump and air-con.
Using a three-cylinder diesel engine raises refinement problems, so the compact hybrid module (just 168mm deep) incorporates both a dual-mass flywheel and a pendulum absorber to help smooth out the diesel motor's inherent imbalance.
The EDM is relatively modest, with an output of just 20bhp. However, its role is to fill gaps in the torque curve and help to boost the car's acceleration. Electric control of the water pump means that it's easier to adjust the speed of the flow of coolant and allow the engine block to heat up quicker. This, in turn, gets the engine oil up to the correct temperature quicker, reducing friction and improving fuel consumption.
Like the Audi Q7 e-tron plug-in hybrid, JLR's MHEV powertrain will be able to shut down its engine and coast downhill to preserve fuel. Any MHEV Discovery Sport or Evoque will probably not arrive before the end of 2018.
Source: Car
Write

a Comment
Fields with * are required