Renault

Sport models to chase class-leading handling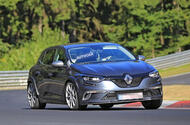 2018 Renault Megane RS spy shots
Division boss Patrice Ratti has said future hot models will make use of the racing experience of its engineers to keep 'RS spirit alive'
The next generation of Renault Sport cars will focus on chassis and electronics development, according to the brand's boss, Patrice Ratti.
"Our competition has turned out cars that are better [than previously]," Ratti said. "We want to keep our leadership in chassis. It is the basis of the RS brand."
Renault Sport will continue working on electronics, further developing the RS monitor, which shows real-time driving performance and dynamics.
"There are some very interesting features with the RS monitor," he said. "We want to keep the RS spirit. A lot of our engineers come from racing. All of the competition is very good, so we want to make something even better."
Ratti wouldn't be drawn on details of the next Mégane RS. However, he said he was finding it difficult to work on long-term RS projects, with his time focused on ensuring the new Mégane platform works for the RS version of it.
He said: "We need to look at what it can do and how we can influence it — for example, bigger engines, bigger tyres, bigger suspension. It is difficult to touch cross beams and the main structure, so we have to make sure we can fit specific parts in an environment where everyone is optimising everything — drag coefficient, CO2 emissions and streamlining."
Autocar has previously reported that the 2018 Mégane RS, pictured testing under a Mégane GT body, will produce more than 300bhp from a turbocharged 2.0-litre engine, be available in both manual and automatic guises and get four-wheel steering.
Source: Car
Write

a Comment
Fields with * are required