Sam

Tordoff is proof of the BTCC's ability to nurture racing stars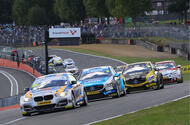 The runner-up in the Dunlop MSA British Touring Car Championship won't be on the grid next season, but his success highlights the merits of tin-top racing
BMW's Sam Tordoff was one of the stand-out drivers in the 2016 Dunlop MSA British Touring Car Championship. Although he lost out to Honda's Gordon Shedden in the last-round fight for the title at Brands Hatch, the Yorkshireman ended the year just two points behind the champion and scored two race victories along the way.
Today he's confirmed that he won't be on the touring car grid in 2017 in his Team JCT600 with GardX 125i M Sport, choosing instead to explore career opportunities in other motorsport disciplines. He's rumoured to be looking at sports car racing, having previously competed in the European Le Mans Series in a Ferrari 458 Italia in 2015.
Although it's a shame for the BTCC to lose one of its star drivers, the fact is that there are potential career opportunities for an aspiring, talented young driver in other disciplines of racing. At the age of 27, and with his most successful season of racing behind him, Tordoff is in a perfect position to launch himself to the next level.  
His decision to leave is no indictment on the BTCC, because it will always remain the series that reaffirmed Tordoff's talent and offered him the perfect springboard to further his career.
It's a risk that other drivers have taken in the past. For example, Andy Priaulx's successful BTCC season with Honda in 2002 put him on BMW's radar, and set him on a path to World Touring Car Championship glory.
There was a time when the BTCC attracted drivers in the twilights of their careers, including some former Formula 1 racers. These days, there's a better balance of seasoned veterans and rising stars, with the former providing the standard which the latter must strive to match. 
The cut and thrust nature of the BTCC makes it an excellent finishing school for aspiring drivers. This season was Tordoff's fourth in the BTCC, and he has finished well inside the top ten in the final points standings each time.
He's also competed within the BTCC package since the age of 19, racing in the Renault Clio Cup and Porsche Carrera Cup GB before getting his full-time BTCC break with MG in 2013. Proof if any were needed of the BTCC's ability to provide an environment in which young racers can grow and graduate.
At present Tordoff juggles his racing with a day-to-day job at the family car business, and at one point there seemed to be a chance he might scale down his track ambitions entirely. That would have been a shame for a race-winning talent and its great that he's going to be carrying on, whichever series he joins.
As for the team he leaves, Dick Bennetts' West Surrey Racing, it already has former champion Andrew Jordan on its books for the next two years, so should remain at the sharp end of the grid.  
Source: Car
Write

a Comment
Fields with * are required