Seat

UK boss: We can do even better than Skoda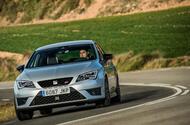 Seat's growing model range comes thanks to £2.8bn worth of investment
UK director Richard Harrison said £2.8bn of Volkswagen Group investment is propelling Seat forward
Seat UK director Richard Harrison believes the Spanish brand can achieve a faster rate of progress than Skoda following an investment of 3.3 billion euros (£2.8bn) from 2015.
At the launch of Seat's first shopping mall store at Lakeside in Essex, Harrison said that the Volkswagen-owned marque has made strides forward just one year after the group began investing into its range, facilities and research and development.
"We're like the kid who's got their first job and is finally contributing to the household," he told Autocar. "It's been happening for about a year and a half since the investment began."
Harrison explained that models such as the Leon and eagerly anticipated Ateca SUV have acted as catalysts for this improvement. The brand is now on course to report its highest profits ever of around £85 million – a dramatic change that follows eight years of loss making.
Skoda enjoyed a similar turnaround of success following its acquisition by the Volkswagen Group in 1991. The Czech brand delivered more than one million cars to customers last year, breaking all of its previous records, showing that its image problem of the 20th century has been almost entirely been eradicated.
But Harrison believes Seat's stronger starting position means his brand could do even better in the long term. "Seat hasn't been given much attention in the past, but now this is our chance to really take off," he continued. "Seat was already in a good position [with regards to image], and with the Ateca and Arona on the way, we're really excited."
The Arona, a new Nissan Juke-rivalling crossover, is confirmed for launch in December 2017. It follows the recently launched Ateca SUV and an all-new Ibiza, which is due in July. Harrison wouldn't confirm if an Ateca Cupra was on the way, despite recent sightings of a development car, but he did suggest more hot models were due.
New Lakeside store
Harrison believes Seat's new Lakeside shopping centre store is an example of the brand's desire to try new things. He said the store, which employs similar soft sell techniques as the Rockar stores used by Hyundai and Land Rover, "puts Seat's space in a place where the customers are already coming".
Harrison said the Lakeside store has already earned the name the 'innovation lab' within Seat UK, because it evolves and responds to customer reactions. For example, the store has a stock of 71 cars, all available to be bought and driven away in within seven days, that can be changed and adapted based on customer demand.
"Our research found that many customers want that fast turnaround, like they get when they're buying a new smartphone – they can walk away with one within a matter of days," explained Matt Benns, head of customer quality & network development at Seat, who was also at the store launch. "The focus here is on simplicity."
Benns revealed that around 90% of sales at the Lakeside shop, which officially opened in August, had been for PCP. For this reason the store advertises monthly payment prices more clearly than the outright cost of cars.
"I believe we're going through a period of exciting change in the car industry," added Harrison. "While I can't tell you what [the dealer industry] will look like in a few years, I can say Seat is working to get a step ahead."
Source: Car
Write

a Comment
Fields with * are required