Skoda

Superb Estate long-term test review: final report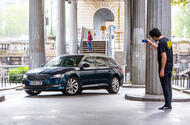 In 10 months and 15,000 miles, Skoda's bargain-priced wagon has proved to be much more than just a practical holdall
The other day I photographed some big executive estates for a comparison: a Mercedes, an Audi and a Volvo.
Now, I'm not about to suggest that they're an extravagance, because they're all lovely inside and everything, but you know what? At nearly twice the price of the Skoda Superb SE L Executive I've been running, they should be.
The Superb is one of those cars that makes a massive amount of sense. In any market segment there's a standout model that nous suggests you should buy: a Volkswagen Up, a Ford Fiesta, a Volkswagen Golf R, a Porsche 718 Cayman. Well, for my money the Superb Estate is right up there with them.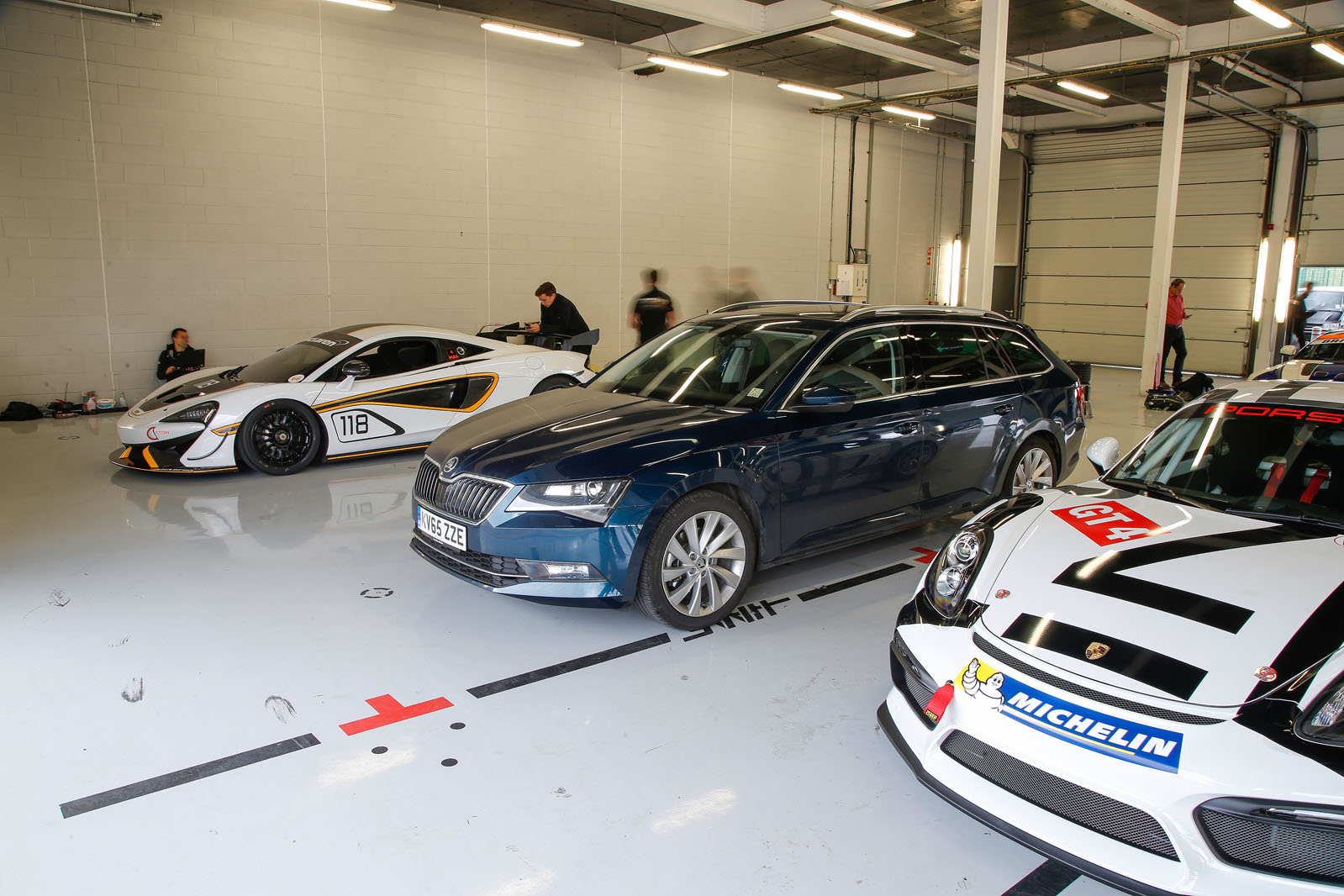 For a start, it's massive. If you want an estate car to be an estate car, look at the Skoda, which has 660 litres of load space with the seats up – about 100 more than any rival – and 1950 litres, again another 100 litres on anything else, with them down.
That's without it being longer than a typical executive estate, too. In fact, it's a few inches shorter than most executive cars, which must mean it's more compactly packaged, because certainly there's enough room in the cabin for a basketball player to sit behind another basketball player.
Perhaps there's less soundproofing and carpet, or fewer infotainment and electronic bits and bobs. If so, that's perfectly understandable, because this is a £26,320 car (or it was when we got it; today's list is £26,785), rather than a £40k one plus options. The things you can get on a Superb are mostly of the 'strictly useful' rather than 'frivolously pleasing' variety: if you want to drop the seatbacks from outside the boot, the release costs £90 (spend it), a retractable parcel shelf is £120 (likewise) and a variable-height boot floor is £150 (I'd leave it). I'd also keep the fold-flat front passenger seat (£100), not only because I like to stand on it and take pictures out of the sunroof (£1150), but also because it makes the already cavernous Superb the king of DIY-store cars.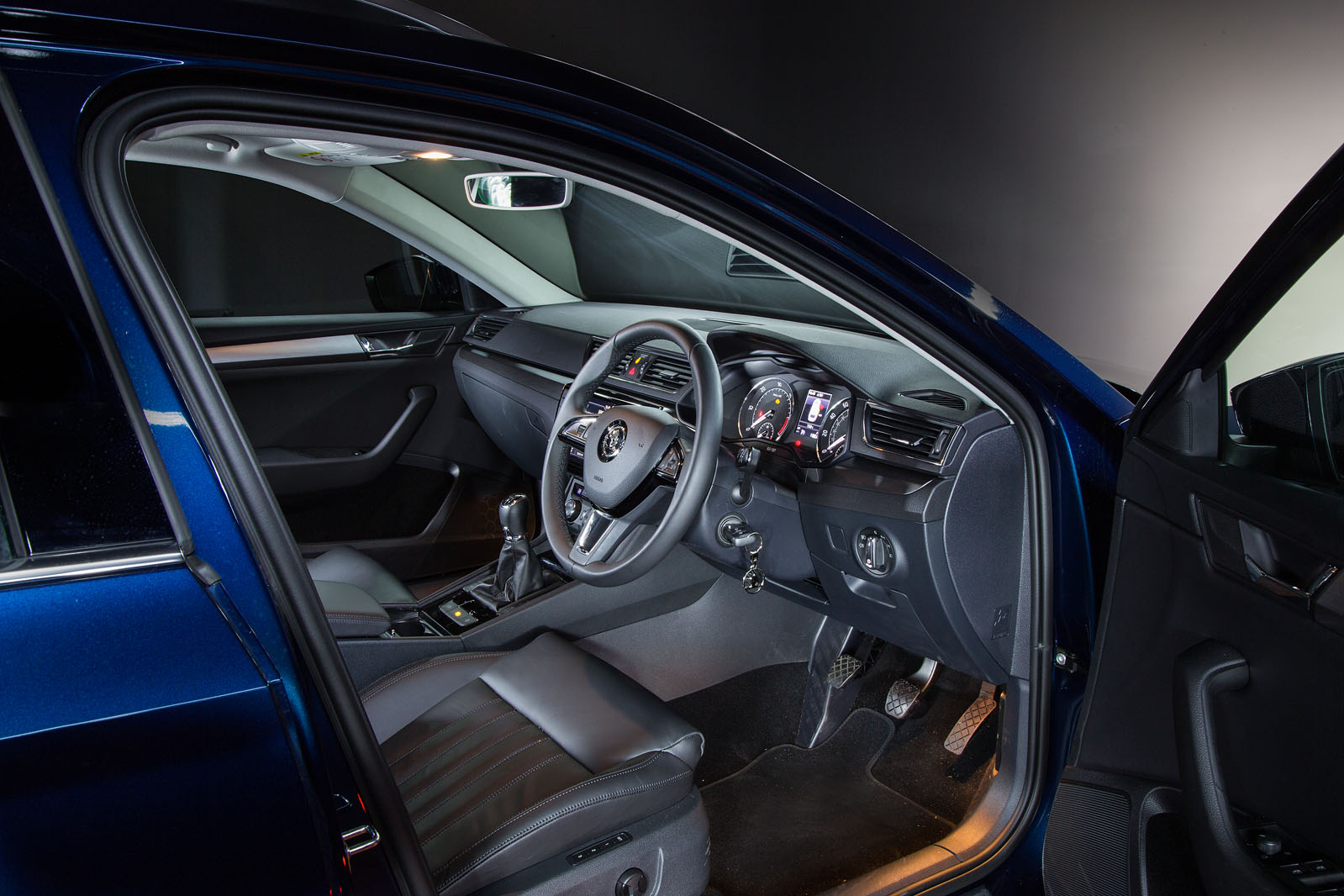 Despite majoring on practicalities, there are pleasing little touches, too. The boot has Velcro-bottomed load bay dividers, which you can stick where you want to prevent things from slipping around. And the easy-to-navigate but averagely designed infotainment system has a function that reminds you not to forget to take your phone with you when you stop, if you've had it connected via Bluetooth while driving. There's an umbrella in each door, too (wouldn't it be nice if, after you've been using the windscreen wipers, the car reminded you that they were there?).
In all, I've covered 15,000 miles in the 148bhp 2.0-litre diesel Superb wagon and returned what I think is a pretty reasonable 46.5mpg, given that quite a lot of my journeys are either commuting in London or on the motorway. The Superb is nearly always fully laden and I'm quite often in a hurry. At 70mph in sixth, the engine is spinning at a fairly leisurely 1800rpm, which, combined with some excellent seats and a brilliantly adjustable driving position, means this is one of the most comfortable cars I've ever lived with.
The ride helps, too. In SE L Executive spec, the Superb runs on 18in alloys (in this case a nonstandard design that's a no-cost option) and our car came with adaptive dampers, at £750. I've since driven Superbs without the adaptive suspension, or Dynamic Chassis Control in Skoda-speak, and neither rides better or worse than the other. At least, not in our car's Normal mode, in which it is extremely comfortable. The ride is too jiggly for my liking in Sport mode, while in Comfort it's softer, certainly, but body control is a bit loose, so I don't actually find it any more relaxing.
But combine the gentle, supple ride with smooth, consistent steering and the kind of ergonomics and pedal weights that no one else seems to get quite as right as the Volkswagen Group does, and you've got a car that's very easy to rub along with.
Nothing of note has gone wrong. A few thousand miles into the test I noticed that the nearside front passenger door wasn't sitting quite flush with the body. It must be quite well sealed, because there wasn't any extra wind noise, but on closer inspection the door latch, where it fixes to the B-pillar, looked to be working loose. So I tightened it myself and that was the end of that.
The Superb has variable oil service intervals, too – to a maximum of 20,000 miles. I topped up half a litre of oil during its time with us, but it would have wanted an oil change at 19,000, so I was planning to get both that and the full service done then.
However, I never quite got there. The Superb has been so good that we have decided to replace it with another one, in a rather different spec. It's an undercover rozzer version: a hatch with a 276bhp petrol engine and four-wheel drive. I'm not running it, but give it a few months and I'll bet I'll still be prepared to say that this variant is one of the most sensible, appealing cars you can buy.
SKODA SUPERB ESTATE 2.0 TDI 150 SE L EXECUTIVE
TEST STARTED 8.1.16
Mileage at start 385 Mileage at end 15,194
PRICES
List price then £26,320 List price now £26,785 Price as tested £29,400 Dealer value now £19,000 Private value now £21,000 Trade value now £23,000
OPTIONS
Panoramic sunroof £1150, adaptive dampers £750, metallic paint £535, variable boot floor £150, retractable parcel shelf £120, 'smart gate' £100, fold-flat front passenger seat £100, rear backrest release from boot £90, colour trip computer £85, 18in alloy wheel change £0
FUEL CONSUMPTION AND RANGE
Claimed economy 67.3mpg (combined) Fuel tank 66 litres Test average 46.5mpg Test best 49.3mpg Test worst 42.5mpg Real-world range 675 miles
TECH HIGHLIGHTS
0-62mph 8.9sec Top speed 135mph Engine 4 cyls, 1968cc, diesel Max power 148bhp at 3500rpm Max torque 250lb ft at 1750rpm Transmission 6-spd manual Boot 660-1950 litres Wheels 9Jx18in Tyres 235/45 R18, Pirelli Cinturato Kerb weight 1430kg
SERVICE AND RUNNING COSTS
Contract hire rate £291.16 CO2 110g/km Service costs None Other costs Engine oil £10 Fuel costs £1708 Running costs inc fuel £1718 Cost per mile 12 pence Depreciation £8400 Cost per mile inc depreciation 68 pence Faults Loose door latch (DIY fix for free)
Stan Papior
Source: Car
Write

a Comment
Fields with * are required