Tesla

Model Y's potential arrival delayed by three days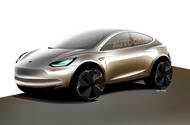 Tesla Model Y imagined by Autocar
Tesla CEO Elon Musk has now said a new product will land on 20 October; possible candidates include a new SUV model, a Ford Transit rival and a Model X-based minibus
Tesla will make an announcement on 20 October, with some sources predicting that it will be the arrival of the Tesla Model Y.
Originally the announcement had been scheduled for 17 October, but Elon Musk Tweeted this morning that a further three days were required for 'refinement'.
Tesla confirmed it was developing an expanded all-electric line-up that'll include a Model Y, an electric cargo van, a minibus and a pick-up truck a few weeks back. While these cars would normally be top of the list of potential arrivals, Musk's suggestion that the October debut will be 'unexpected' means it could also be something entirely different.
Potential products include improved charging or road imaging technology. Some industry experts suspect next generation driverless technology won't arrive for several more months, so have dismissed that as a likely candidate.
More information will be released when the mystery product is launched on 20 October.
Model Y and more to lead expanded range
Exactly when the Model Y and its new siblings arrive is yet to be learned, but Tesla founder Musk has at least confirmed that the future models will be built upon existing chassis underpinnings from the Model 3 and the Model X.
He said that the Model Y, which will be a compact SUV, will be based on the Model 3 saloon. The electric cargo van, pick-up and minibus will use the chassis of the Model X.
Musk revealed the details when British Twitter user, James Ross, questioned him about a possible Ford Transit rival. Ross had pointed out that pick-up truck use in Europe is rare compared with in the US.
Musk replied that building such a vehicle based on the pick-up chassis "probably made sense".
Tesla reports losses of £220 million for second quarter of 2016
Previously, he had responded to an article wishing for a Tesla version of a Volkswagen Type II by confirming on Twitter that the Tesla Minibus would be built on the Model X chassis.
During the summer, Musk revealed his plans for the future of Tesla in an article entitled 'Master Plan, Part Deux', which detailed product plans, autonomous technology development and intentions to enter the public transport sector. It came ten years after Tesla's first master plan, which previewed the subsequent launches of the Tesla Model S, Model X and Model 3, as well as solar power products.
The second Master Plan outlined plans for the Model Y and two more electric vehicles – "heavy duty trucks and high passenger-density urban transport", the latter of which is believed to be the minibus. Musk said the vehicle was in the early stages of development, but that it could be revealed as early as next year.
As autonomous technology improves, all Tesla vehicles will have the capability to be self-driving, Musk said in the article. He also envisioned a car-sharing platform to more fully utilise passenger-carrying potential in cars that would otherwise be sat outside owners' homes for the majority of the time when they're not in use. Once self-driving cars are approved by regulators, they could be summoned from anywhere.
"Since most cars are only in use by their owner for 5% to 10% of the day, the fundamental economic utility of a true self-driving car is likely to be several times that of a car which is not," said Musk.
Phill Tromans and Sam Sheehan
Source: Car
Write

a Comment
Fields with * are required