Tesla

to build European Gigafactory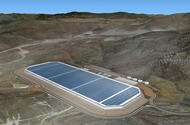 After Tesla's acquisition of German production tech firm Grohmann Engineering, the American car maker will build a European Gigafactory
Tesla CEO Elon Musk has confirmed that the firm's next Gigafactory production plant will be in Europe; the company will start looking at potential locations next year. 
Musk confirmed the plans at a press conference in Germany yesterday, after he announced Tesla's acquisition of Grohmann engineering – a German automated production technology firm.
Tesla hopes that its buyout of Grohmann Engineering will accelerate its manufacturing technologies as it prepares to put the Model 3 saloon into production. Although Musk said that no location for the European factory will be decided upon until next year, it seems logical that somewhere near the Grohmann site will at least be considered an option, as it becomes the largest centre for Tesla's European operations.
Tesla's plans to make another Gigafactory are so solid, that the Fremont plant is now being referred to as 'Gigafactory 1', with a European plant likely to be 'Gigafactory 2'. 
Read more about Tesla's Gigafactory here
In relation to a question about bringing production of Tesla models to Europe, Musk said: "This is something that we plan on exploring quite seriously with different locations for very large scale Tesla vehicles, and battery and powertrain production."
Grohmann Engineering – soon to be Tesla Grohmann Automation – is based in Prüm, Germany, and specialises in automated manufacturing technology. Tesla says that the acquisition of the company should accelerate its production processes as "the factory becomes more of a product than the product itself".
Tesla plans to use the Prüm centre as a hub for its factory developments, although no vehicles will be produced at the centre. A total of 1000 jobs will be created in Plüm in the next two years, with Tesla planning to expand the centre in the near future. The developments in robotic car production which come from Prüm will be used in Tesla's existing factory in Fremont, California.
A Tesla spokesman said that new cars will not be produced at the Grohmann plant, and that it is only a production engineering facility. This does not mean that Tesla's next factory will not be Plüm-based, though, with multiple sites being looked into ahead of the decision being made.
Read more: Tesla Model S P100D set to become even faster
Tesla hopes that opening more factories – previously speculated to be in Asia and Europe following Tesla's US-based manufacturing plants – will create greater economies of scale in its production process, which will ultimately drive vehicle prices down.
Tesla needs to do this in order to produce more cars like the upcoming Model 3, which will be its cheapest model as well as its best-selling, having already racked up several hundred thousand pre-orders. The Tesla spokesman said that the automation that Grohmann deals with is "critical to reach those economies of scale".
Grohmann, according to Bloomberg, also serves the telecommunication, consumer electronics and biotechnical industries, and has presence in multiple Asian markets, as well as Europe, Canada, North and Central America, South Africa and Australia. These areas of business will without doubt be of great interest to Tesla, as it seeks to expand its presence globally, as well as diversify its business.
Tesla would not disclose how much it paid to acquire Grohmann, and couldn't comment further on Musk's comments.
Source: Car
Write

a Comment
Fields with * are required