The

fight for the hypercar crown is bigger than ever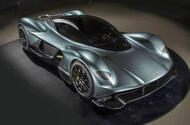 Aston Martin AM-RB 001 could set a new benchmark for hypercars
Aston Martin and Mercedes-Benz are to produce ground-breaking 1000bhp hypercars, so don't think Ferrari and McLaren will just sit back and relax
Think the hypercar is getting exciting again with the news that both Mercedes-Benz and Aston Martin are developing near 1000bhp monsters to follow in the footsteps of the likes of the LaFerrari, McLaren P1 and Porsche 918 Spyder? Well, it's just possible that you ain't seen nothing yet.
The fact is, at the moment at least, demand for these cars is so high that they sell out almost as soon as they are announced. Ferrari's 200 LaFerrari Apertas were snapped up instantly,while the 150 Aston Martin AM-RB001s are not only sold out but many times oversubscribed, meaning there remains a glut of gazillionaires happy to spend more than a million on a car but currently unable to get their hands on one. This is the kind of demand that brands in a position to charge that amount for its cars will find had to ignore.
However, that's only one reason I think the hypercar market is about to go into overdrive. The other reason is Formula One. Consider this: Mercedes-Benz is the most successful manufacturer in F1 at present and it's been very clear about the fact that it will use the entire powertrain of its current F1 car in its new hypercar (imagined below).
The team it usurped at the top of the F1 tree was Red Bull, whose technical supremo Adrian Newey is designing the Aston Martin and whose technologies are core to its apparently unprecedented dynamic potential. Now consider who's left: McLaren and Ferrari, historically the two most successful F1 teams of all time who, as it happens, also have the longest and most illustrious histories in hypercar production. So given that the market is there, do you think they're just going to sit back and let their rivals steal their thunder on the road in the same way as they have recently done on track?
Of course, the McLaren P1 is not long passed and the LaFerrari is still making headlines, but it seems the Aston-Red Bull and Mercedes hypercars are about to move the game onto yet another level. So if it turns out that well-laid plans in both Woking and Maranello to replace their hypercars at some distant point in the future are even as you read being fast-tracked to the top of the to-do lists I, for one, would not be in the least bit surprised. 
Source: Car
Write

a Comment
Fields with * are required