Throwback

Thursday: testing the Chinese government's luxury limo in 1975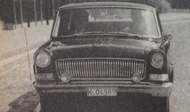 Chinese cars are increasingly common, but on 4 October 1975, we were taken aback to see a Hongqi CA77 limousine on display in Germany
There has been a lot of talk about Chinese cars in Autocar lately, and with good reason.
Some of it, as has been common over the past decade, has concerned the likes of Zotye's and LandWind's questionable design ethics. Yet there have also been plenty of exciting prospects, such as LeEco's and Qoros's respective electric efforts, the launch of the innovative Lynk&Co marque and the genuine promise the industry can offer.
China was certainly a latecomer to the petrol party, but it has had oily overalls for longer than many realise. After the Chinese civil war ended in 1949, resulting in the foundation of today's People's Republic, it took four years for the country's first vehicle factory in Changchun to open its doors, after considerable assistance from the USSR.
History of the Chinese copycat car
The first Chinese car, the Hongqi (Red Flag) CA72, was a limousine for party figures slightly more equal than their subjects, who were all walking or riding bicycles. It was based on Chryslers of the 1950s and featured a V8 engine.
In 1963, the first CA700-series model arrived. A rather majestic-looking stretched saloon, it transported state dignitaries in its various forms until production stuttered to an end in 1980.
In 1975, at a time when China was far more isolated from the western world than today and still under the power of Chairman Mao, Autocar was taken aback to see a Changchun-built Hongqi CA77 at an exhibition in Cologne, Germany.
"Intrigued at the unexpected appearance of the strange limousine at their local show, the German magazine Auto Zeitung applied to the Chinese Embassy in Bonn, and after some protracted negotiations obtained permission to take the car on the road for a brief assessment before it departed back to China," we explained, before detailing the German journalists' test drive.
"Under the bonnet is a 5.6-litre V8 engine, with drive to the rear wheels through a two-speed automatic gearbox with torque converter.
"Although the Chinese representatives of the firm claimed it developed 220bhp, it was felt that something between 150 and 160 was a more realistic figure," Autocar reported. This gave it the acceleration of a "hard-driven" Mercedes-Benz 200 diesel, we suggested, "although accompanied by the characteristic throaty exhaust noise of a V8."
The car, we felt, was built like a tank – evidenced by its three-ton unladen kerb weight. In fairness, the Hongqi was built for political parades rather than autobahnen, which explains its 19ft length and particular focus on the rear of the interior.
"Inside, it offers huge leg space even for Europeans," Autocar reported, "and the notably short Chinese must feel very grand indeed when travelling there.
"The rear seat is adjustable by electric control, both to and fro and vertically. The floor is covered in carpet of most luxurious quality and the seat upholstery – under plastic covers which were not allowed to be removed – were also of top quality.
"The German reporters were rather taken aback at being asked to wipe their feet getting in."
Rear occupants were also provided with electric windows and air-con, "tending to suggest that life can be good in the land of the Red Flag, provided you are the right sort of comrade".
The driver's seat wasn't quite as comfy, being a fixed bench seat, although it was "also luxuriously appointed".
One thing that particularly surprised us was the lack of passive safety features in the Hongqi – a flat dashboard of solid polished wood, dark glass sun visors and tip-up folding seats – all, we knew, dangerous in a high-speed crash.
Despite this being such an unusual car, we were slightly disappointed to find nothing of particular novelty.
"Everything was thoroughly conventional, with coil spring and wishbone suspension at the front, live axle and leaf springs at the back, and drum brakes all round," we reported.
The steering and brakes were power assisted, a luxury feature at the time, although the helm was "vague" and the braking "very inadequate."
Autocar concluded by saying: "China certainly has a long way to go to catch up with car manufacturers in the Western world.
"However, one can appreciate how magnificent it must feel to ride through the streets of Peking [Beijing] in the Hongqi, bearing in mind that the city's population of 7 million includes 2 million cyclists, and that private cars there are unknown. Taxis are few, and are available only on request – there is no hailing on the street.
"Not much was known about the price of the Hongqi, but it is believed to be between £13,000 and £15,000." That's around £100,000 today.
Hongqi's representatives weren't that bothered about how far out of reach cars were for the average Chinese, mind you.
"We don't need private cars," they told Autocar's reporter. "When we have to travel, the State helps us."
Today, China is the biggest car market in the world, with 21.15 million sales in 2015 alone.
Throwback Thursday: 1922 Studebaker Light Six road test
Source: Car
Write

a Comment
Fields with * are required