Toyota

and Suzuki may partner up to develop green and safety tech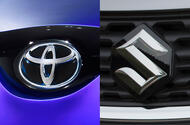 Toyota and Suzuki have announced that they are exploring entering a partnership to develop green, IT and safety technology
Suzuki and Toyota have announced the precursor to a partnership that will allow the two Japanese car makers to co-develop new environmental, safety and IT technology.
A joint statement said: "With its primary focus on small vehicles, Suzuki has been consistently refining its technologies so as to develop vehicles with high price competitiveness. However, in the face of the advanced and future technology R&D field, Suzuki is increasingly feeling a sense of uncertainty."
It went on to say that although Toyota has been conducting R&D in environmental, safety and IT technology, it believes that competitors in European and North American markets may be ahead of it when standardising and partnering with other companies for technological development.
We've spied the next Suzuki Swift – read more here
Suzuki's infamous partnership with Volkswagen ended in a bitter legal battle resulting in the two companies parting ways far earlier than the deal set out, and Suzuki buying a 20% stake back from Volkswagen.
Toyota, meanwhile, has been working on its next Supra in a joint venture with BMW that will also produce the Z5. Both of the new sports cars will be hybrids and will share many components. Development has now separated as the cars near completion, however.
Read more about the BMW Z5 here
Speaking about the deal, Toyota's president, Akio Toyoda, said: "As the environment which surrounds the automobile industry has been changing drastically, we need to have the ability to respond to changes in order to survive.
"In addition to the R&D which each company is working on individually, it is very important now to have partners who share the same goal and passion."
"We would like to always keep our doors open for new partnership opportunities, which will contribute to the making of ever-better cars as well as to the development of the automotive industry."
Read our first impression of the upcoming Toyota C-HR here
Suzuki boss Osamu Suzuki said: "Toyota is industry-leading, and the most reliable company which is actively working on various advanced and future technologies."
"I am appreciative that Suzuki is able to start discussions with Toyota to explore ideas on a partnership. I first spoke about this possibility with Toyota's Honorary Chairman Shoichiro Toyoda, and am very grateful that President Akio Toyoda has also shown an interest."
Neither company's UK spokesmen were able to give any more details on the tie-up yet, but are awaiting further information from their respective headquarters in Japan. 
Source: Car
Write

a Comment
Fields with * are required