Toyota

Concept-i demonstrates artificial intelligence at CES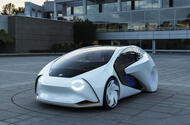 New model learns its user's preferences and adapts functions to cater; Toyota's California-based CALTY centre lead design
The Toyota Concept-i is a new autonomous vehicle that has been revealed at the Consumer Electronics Show to demonstrate the effectiveness of artificial intelligence (AI) in cars.
Created by Toyota's California design centre CALTY, Concept-i has been designed to focus on user experience by using Toyota's so-called kinetic warmth design philosophy.
The car's AI system seamlessly adapts its services to the user's preferences over time through machine learning, while also linking to the car's location and connectivity features in order to offer area-specific facilities.
The AI system has been named Yui as to give it a personality. Yui can communicate with users via spoken messages, lights and even touch sensitive features.
Concept-I is at first an autonomous electric car, but passengers can also switch the car into manual mode in certain circumstances. During manual operation, the car will still monitor driver attention and road conditions, and can provide automated assistance to help the driver during dangerous conditions.
The car's extensive use of glass has enabled designers to give the cabin a more airy feel. The cabin itself uses lighting and illuminated messages to provide passengers with information. Rather than using a central display, the car uses projectors to show the information in the area it relates to. Blind spot alerts, for example, are shown in the car's pillars.
Toyota senior vice president of automotive operations in the US Bob Carter said: "At Toyota we recognise that the important question isn't whether future vehicles will be equipped with automated or connected technologies, it is the experience of the people who engage with those vehicles.
"Thanks to Concept-i and the power of artificial intelligence, we think the future is a vehicle that can engage with people in return."
High performance Toyota Yaris confirmed
Toyota reveals new powertrain range with focus on driver enjoyment
Source: Car
Write

a Comment
Fields with * are required