UK

driverless pod trial is first in public space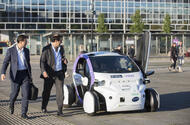 A UK firm has started a trial of 40 driverless pods in pedestrianised areas of Milton Keynes
A trial of 40 self-driving pods has begun on an area of pedestrianised pavement in Milton Keynes.
Members of the public are also being involved in the trial, which is being run by the LUTZ Pathfinder project. Despite the pods being labelled as 'driverless', each is occupied by a trained custodian, and unlike a recently proposed trial in the US featuring autonomous vehicles with no control inputs, the pods undergoing testing in the UK have steering wheels and pedals.
Read more: is the Google car doomed?
The project has previously used test drivers, but the latest trial will involve transporting members of the public around the 0.6-mile area, with 
The pods use a software package called Selenium, which has been developed by an Oxford University-affiliated robotics company, to navigate their way around, and they have a top speed of 15mph, although will likely travel much slower than this most of the time.
Programme director Neil Fulton said: "When this project was setup two years ago we had three main objectives, the first of which was 'How can we help develop technology with Oxford uni to run in this type of vehicle in this environment?', the second was 'How do we feel as occupants and pedestrians? We're interpreting the public's reaction to the vehicles. The third was 'How well suited is Milton Keynes to vehicles like this? Will changes to infrastructure be required for pavement vehicles?'. 
"We've been taking the vehicle around for months in manual mode, gaining map data, allowing the public to see it in operation, and we're getting there with the level of trust and reliability that we need. It's the first time that a vehicle has been driven driverless in public in the UK."
An autonomous track day is coming to the UK – read more
"The UK has a challenge to develop autonomous technology as it doesn't have a home OEM base like France, America or Germany. A lot of research is done with JLR and Nissan, but the UK government is trying to open doors for research and development and attract autonomous developers here."
Source: Car
Write

a Comment
Fields with * are required