Used

Mercedes | Life with a 190E – part 2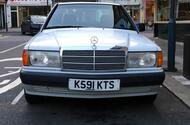 Work begins on making the 190E look more presentable, starting with a new windscreen and plates. An ignition issue looms, however
A recent test car drought at Haymarket Towers meant I found myself shuffling about in the 190E for a long stretch, which gave me time to really appreciate just how together it feels to drive – no doubt helped by its recent new shocks, discs and full balance.
As somebody on the comments quite rightly pointed out, it isn't quick, but as somebody else pointed out, driving in London isn't exactly a brisk activity at the best of times. In fact, sloping around the capital's urban roads, the little 1.8 actually has everything required and, although the gearbox is a little jerky when cold between first and second, it gets better with warmth and a sympathetic throttle position. 
Driving in London also presents another problem: poor roads. Again, the 190E feels up to the job, sailing over ruts and cracks without becoming particularly unsettled or creaking in protest. It handles pretty tidily, too. Although you'd hardly call it fun, it steers precisely and keeps its body nicely planted despite being quite soft.
It isn't perfect, though, and I've spent the past couple of weeks attending to a few smaller problems before I take on the bigger ones. First, the windscreen, which had a large crack and a chip. National Windscreens turned up three days after being called, and replaced it in an hour or so, all for an excess payment of £75. I was very impressed.
Next up were the numberplates, the front of which had a taken a hefty whack and lost a corner in the process, while the rear was simply looking its age. It's only a very small thing, but it's amazing what a shiny new set of plates has done for the look of the car. If you ignore the flat paint and faded bumpers, maybe. 
The news isn't all good, though. The paint and bumpers will be fixed in time, but there's a bigger issue that needs sorting before winter rolls in. Once up and running the 190E is steady as rock; its oil pressure and temperature gauges remain where they should be and it idles smoothly. The issue is getting it started in the first place.
Leave the car inside in the warm and it'll take a couple of turns, but the first proper chilly morning last week left it struggling for a good five minutes. To be fair, I was warned about this by the previous owner and I'm already planning to take it in for diagnosis next week with the local mechanic. Here's hoping its just a sensor issue and nothing more expensive.
I'll be back soon to report on how it all went. 
Read Part 1 HERE
Source: Car
Write

a Comment
Fields with * are required