Used

Volkswagen Golf GTI (2004-2008) buying guide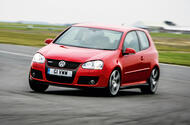 The Mk5 Golf GTI signalled a return to form for Volkswagen's hot hatch, and it can now be had for as little as £3000
Is the Volkswagen Golf GTI Mk5 (2004-2008) the hot hatch bargain of the moment? Around £3000 is all you need to pocket the keys to an early car with service history.
True, it'll be showing north of 100,000 miles, but if you keep a cool head and do your checks (see opposite), your money will buy a precision motor with the ability to paint a large smile across your face.
New, it cost £20,000 (the DSG dual-clutch automatic version was almost £21,500). Today, that looks like a steal, but even 12 years ago, the Mk5 appeared to be something of a bargain, especially in the wake of its underwhelming predecessors. Slow, heavy and dull to drive, the Mk3 and Mk4 Golf GTIs had squandered the Mk1's rich legacy. It would take the brilliant Mk5 to rescue it.
Available in three and five-door forms, it retained the Golf's tried and tested front-drive layout but had an all-new, stiffer and sharper chassis with fully adjustable independent suspension. Meanwhile, the 1.8-litre engine of old was replaced by a guns-blazing, 197bhp 2.0-litre turbo, fed by VW's new FSI high-pressure fuel injection system that directed the precious stuff straight into the engine's rapacious cylinders. As a result, the manual GTI could nail 62mph in 7.2sec (6.9sec in DSG form) and, with a light foot, return 35.8mpg.
Faster, crisper and – almost – back on top (there would always be the more visceral Honda Civic Type R to show it a more exciting pair of heels), the Mk5 quickly stole hot hatch buyers' hearts. It sealed the deal with a five-star Euro NCAP crash rating and an equipment list that featured impressively comfortable sports seats, climate control and traction control.
In 2006 the Edition 30 arrived to send hearts soaring. This special edition, launched to mark 30 years of the GTI, squared up to the Honda Civic Type R with body mouldings, new colours, the return of the GTI Mk1's golf ball gear knob, partial leather trim and unique alloy wheels. The engine was tweaked to produce 230bhp, driving down the 0-62mph time to 6.8sec (6.6sec for the DSG). A Pirelli Edition, based on the Edition 30 but with Pirelli logos and available in sunshine yellow, followed in 2007.
Faster and rarer though these specials are, we'd chase down a standard three or five-door manual version with cloth trim every time, and with a full service history, too – the sort supported by invoices that detail every last bit of work. The Mk5 Golf GTI may feel bulletproof but behind those solid doors and rock steady ride lurks a car that can cause palpitations if neglected.
Another thing: GTI Mk5 prices are all over the place, with cars in the £4500-£6000 price range, especially, available with a bewildering array of mileages, ages and conditions. Our advice is to check out as many as you can and place a premium on condition and service history rather than age and mileage. Then, once you're happy, do the deal, pocket the keys and prepare to smile – wide.
HOW TO GET ONE IN YOUR GARAGE
An expert's view…
HASSAN FAZEL, AWESOME
"Despite its known transmission and engine problems, the Mk5 is robust. It's more popular than ever, too, because prices are now lower, yet the quality and the performance are still there. The 230bhp Edition 30 is the collector's choice, but if you can't afford a tidy one, standard engines can be boosted to 250bhp for just £1500."
Buyer beware…
RUST
Look for rust at the front wheel arches.
ALLOY WHEEL CORROSION
Uprated 18in Monza alloys can corrode and are expensive to repair.
GEARBOX
DSG's mechatronic unit can fail if routine oil changes have been ignored. Feel for lurching when pulling away.
FUEL PUMP
Cam follower between the pump and camshaft can fail, causing fuel to be sprayed onto the shaft at high pressure, wearing it down. Inspect or change the follower (around £30).
COKED-UP VALVES
Carbon can accumulate on the backs of the inlet valves, preventing them from seating correctly and increasing oil consumption. (A litre of oil per 1000 miles is typical for a sound engine.)
WORN DIVERTER VALVE
Diverter valve releases boost pressure when you lift off the throttle. It's quite fragile and can fail, reducing power by around 50bhp. A replacement is £60.
REAR TYRE WEAR
Rear track has its own adjustment tolerances but is often wrongly set up, causing increased tyre wear and flatspotting. Check for worn dampers, too.
MISFIRE
It could mean the ignition coil packs are on the way out.
TIMING BELT
Should be changed at 75,000 miles.
REAR BOOTLID HANDLE
Doubles as the VW badge and can seize.
Also worth knowing…
Technical service bulletins (TSBs) — not to be confused with recalls — are fault diagnosis and repair alerts issued by car makers and available to all garages. The Golf GTI Mk5 has had more than most: around 15. They range from aircon malfunction and a humming noise from the front wheels when cornering, to no change in engine speed when the accelerator is depressed.
How much to spend…
£3000-£3999
Early cars with patchy histories and high mileages. You may find the odd gem, such as the 2005/54-reg car we saw with 106,000 miles and full service history at a dealer for £3750.
£4000-£5499
Lots at this money, most with 80,000 miles upwards and spanning 2004 to 2008. One that caught our eye was a 2004 5dr with 84,000 miles, full service history and a new cambelt for £4750.
£5500-£6999
Tidy but still high-mileage 2006-2008 cars, including a "cherished" 2007 Edition 30 DSG with 130,000 miles in the private ads for £6195.
£7000-£7500
A mix of attractive 2007 and 2008 cars with reasonable mileages and solid histories, such as a 2008/58-reg 5dr with 60k miles and a full service history for £7000.
Source: Car
Write

a Comment
Fields with * are required