Used

vs new: saloons, lightweights, sports coupes and AWD GTs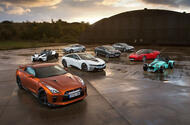 Should you buy a new car with the latest plate or a more desirable used model for a similar price? We pick four budgets and eight cars to find out
You can spend aeons agonising over which new car to buy.
Choose a budget, a bodystyle. Read the reviews, check out the rivals. It's not easy – after all, new cars have never been so competitive. But gen up, appraise, step back and – at last – make your call.
But hang on. Throw a quick sideways glance out of the brochures and into the classifieds. Where your budget dictated four cylinders, now there are six. Where there was mundane, now there's exotic. Where there was restraint, now there's a simply enormous bolted-on rear wing.
Welcome back to the world of temptation that is Used vs New…
USED: BMW i8 
NEW: Nissan GT-R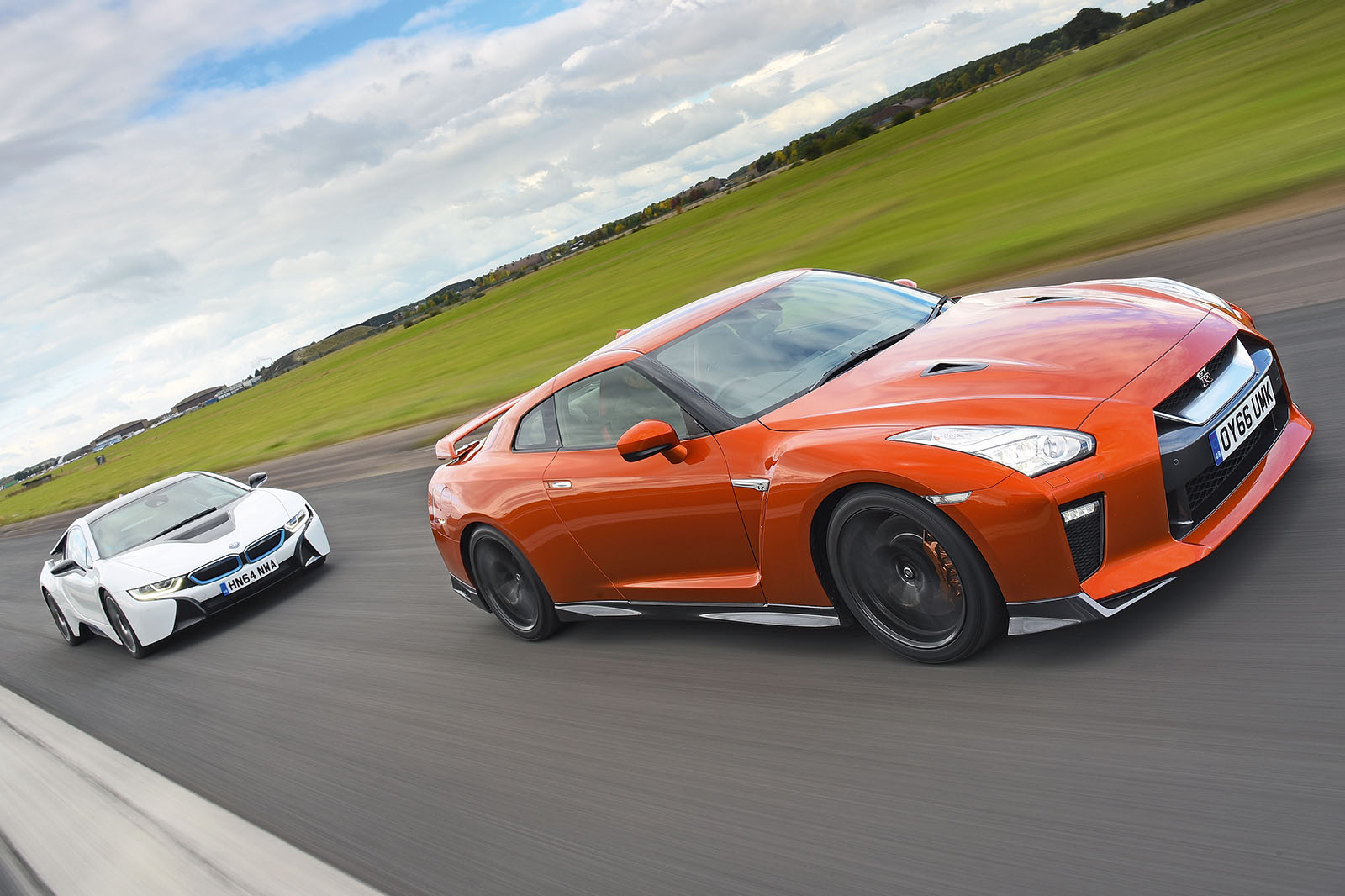 The latest Nissan GT-R has just been launched and can be yours from £79,995. A decade after its debut, it's still a tech bargain that's loaded with performance hardware, sensors and processors to help it change direction like Godzilla's own thrashing tail. Of course, the 2017 version is more powerful than the last, making 562bhp from its twin-turbo 3.8 V6, but Nissan has also added a number of refinements that edge the car further into grand tourer territory.
Which is where you'll find another tech-intensive steal in the form of BMW's i8 plug-in hybrid. Only two years since its launch, you can buy used ones from just £63,000 – a bargain for a car that costs £104,540 new (government grants no longer soften the blow) and benefits from Munich's most sophisticated hybrid technology. For the GT-R's £80k, you can almost take your pick of used i8s. John Wallis heads up the BMW Car Club Great Britain's i Register and has kindly brought along his immaculate, 7700-mile 64-plate example that's finished in Crystal White and worth around £73,000.
So here we have a pair of all-wheel-drive, 2+2 GTs – one that drinks petrol like Hemingway downed rum and another that barely touches the stuff. But can the Nissan really cut it as a usable GT without losing its teeth? And is the parsimonious BMW entertaining enough to compete?
No one has ever called the GT-R a wallflower, and the latest styling tweaks have added even more aggression (and downforce), but the i8 garners more stares, its low and svelte yet intricate form drawing the eye even without a flap of its graceful dihedral doors.
The BMW's high sills and cocooned cabin also make ingress a dihedral, but not necessarily graceful, operation. It's less glamorous inside than out but still beats the Nissan hands down for drama and intrigue. Familiar BMW switchgear and functions are transposed onto a fresh architecture and embellished with first-rate materials, with a virtual binnacle for full futuristic effect. The fabric and leather seats are a highlight – concept-car handsome, and firm but easy to adjust for comfort.
It's a more conventional, quadrate set-up inside the Nissan, albeit a recently improved one. A new rotary infotainment dial apes the BMW's (the system can't match iDrive for usability, graphics or speed but thankfully reduces the button count), while the improved stitched leather looks and feels genuinely premium. The seats in our eponymous Recaro model aren't as elegant as the i8's but are even more supportive and roundly adjustable.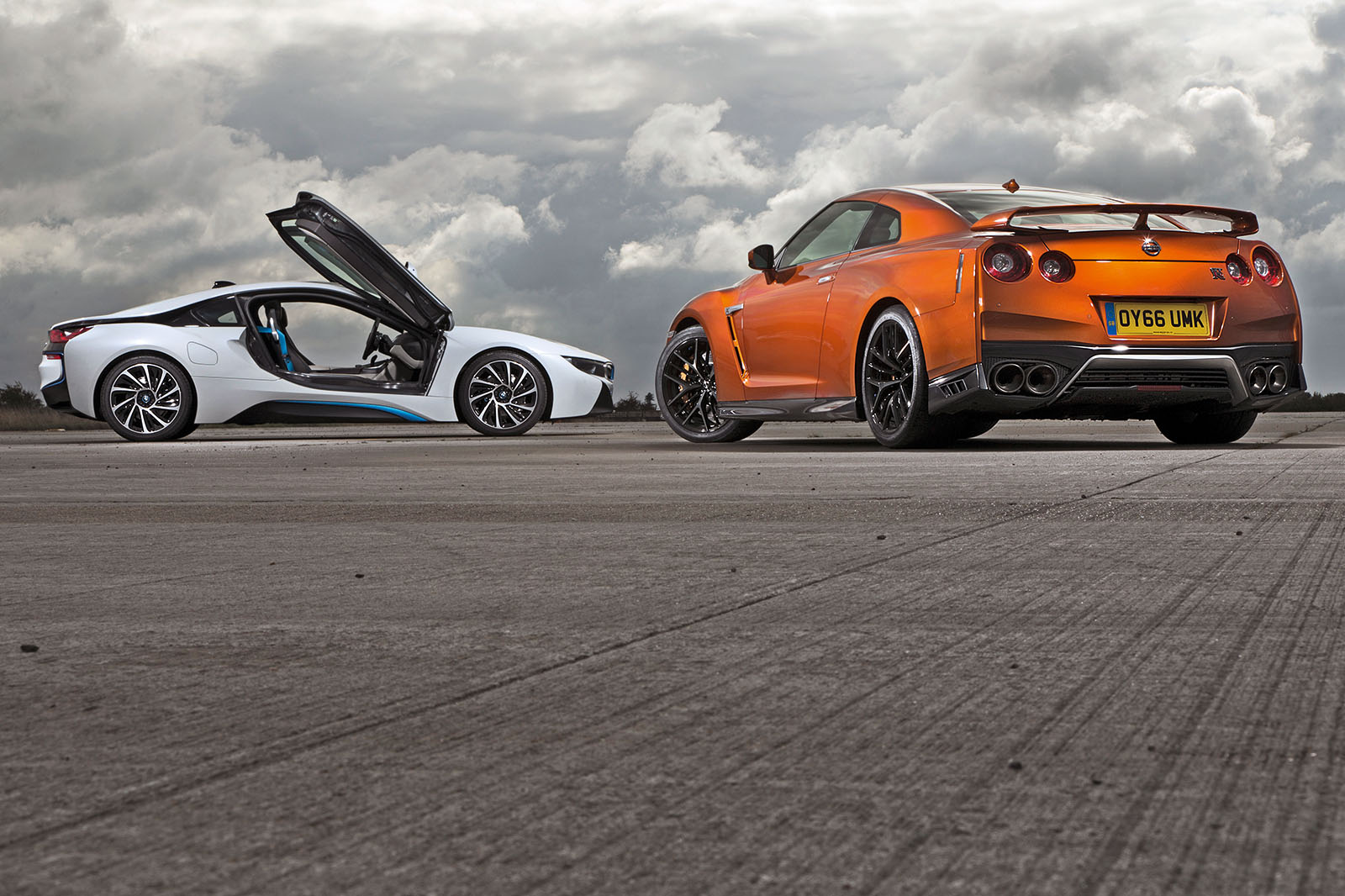 The rear seats in both cars are tiny; you can crane your neck, but if your legs are non-negotiable, you'll struggle. There's an Edam-shaped, 154-litre boot in the i8 that's at least uniformly shaped, but the GT-R's 315-litre hold is much more practical.
With a 23-mile electric-only range (from which our testers salvaged 16 urban miles), the i8 is plainly unbeatable for drivetrain refinement in town. The vibrationless, near-silent workings of the 129bhp electric motor drive the front wheels and supply that pulse-dropping calm that's an absolute tonic during city trudges. But the i8's sporting firmness does deliver a rather knobbly ride over imperfect surfaces, despite Wallis having dropped the tyre pressures slightly to soften it.
Surprisingly, the Nissan is no firmer than the BMW in town and its steering not much heavier. It's noisier, of course, with continuous but bearable exhaust bass, yet the GT-R's familiar differential groan and transaxle chatter have been suppressed and low-speed upshifts are much smoother now. It isn't the fizzing, bit-champing urban agitant it once was.
As for those three-figure motorway miles a true GT must swallow up, the BMW's mid-mounted, 228bhp 1.5-litre turbo triple that drives the  rear wheels grumbles distantly at a cruise, while the Nissan's exhaust gently hums. Road noise is greater in the GT-R, but both cars ride acceptably well and have top-notch high-speed stability, although the BMW's steering feels particularly settled under these conditions.
There's no official acceleration figure for the GT-R, but we achieved 3.4sec to 60mph in our recent road test with the help of its brutal launch control system, an unseen fist that jabs your face off the line and is followed by blink-quick upshifts from the six-speed dual-clutch automatic gearbox. The vast torque band creates a 4500rpm-wide playground all the way to the 7000rpm limiter. Surprise the throttle in this zone in manual mode and a beat of turbo lag is soon swamped by bountiful acceleration, while kickdown is suitably prompt in auto with the transmission's R mode engaged. The engine remains smooth, its speaker supported note purposeful but unexpectedly restrained.
BMW states 4.4sec to 62mph for the i8, but in its stride, the car feels almost as rapid as the GT-R. Its gearbox is 'only' a six-speed torque converter auto, but the front electric motor – which, unusually, has a two-speed transmission of its own to boost high-speed usefulness – and the rear starter-generator dollop torque over the upshifts to the point that they're almost imperceptible.
Using even more acoustic amplification than the GT-R, the BMW sounds angry when pushed, with that engineered upshift 'whumph' from the exhaust that so many downsized turbos use to sound beefier than they are. Despite a little lag (the tiny three-pot does most of the donkey work, after all), there's a vigorous stream of acceleration all the way to 6500rpm, with an uncanny electric whine persisting all the while. Off the throttle, energy harvesting by the starter-generator makes the i8 feel heavier than its carbonfibre-gilded 1560kg, but the impressive regenerative brakes only betray their secondary function when stopping completely.
Both cars downshift with a blip, but the BMW's gearbox refuses to plunge its engine into anything above about 4000rpm, leaving a few left-paddle requests unanswered. Meanwhile, the GT-R's transmission goads you to do just that.
This divergence persists when it comes to handling, the Nissan challenging your notion of cornering grip where the BMW's 40mm-skinnier front tyres start to tap out, especially in the wet, when traction control is a regular interloper. It's when cornering hard that the i8's distinct power sources start to lose coherence, whereas the GT-R slips from rear-driver to anything up to a 50/50 split between axles with reassuring fluidity, and it barely registers inclement conditions.
Ease back a little and the i8 stays composed enough to cover country roads really rapidly, the firmer of two suspension settings stabilising its mass impressively without sacrificing too much ride quality. In contrast, you'll probably want to keep the Nissan's dampers set to Comfort, in which it's still plenty agile for road use, defying its 267kg handicap versus the BMW. The i8's steering is responsive but values slickness over nuance, highlighted by the Nissan's more graded weight and feedback.
Like any good GT, both cars are respectably well mannered but also provide towering performance. While the BMW's claimed economy is unrealistic, it can easily deliver 50mpg overall, while the Nissan flounders in the teens, and with the help of plug-in charging, the i8 won't drink a drop in town. It's an incredible bit of kit, and in used form, it's a lesson in (relatively) affordable hybrid fun. But only the GT-R has that extra dynamic dimension. You needn't take to a track to enjoy it, but it's the only one of our pair that would benefit from doing so. The latest GT-R is also everyday-usable if you can stand the overheads. For us, it's a price worth paying.
USED: Maserati Ghibli
NEW: Ford Mondeo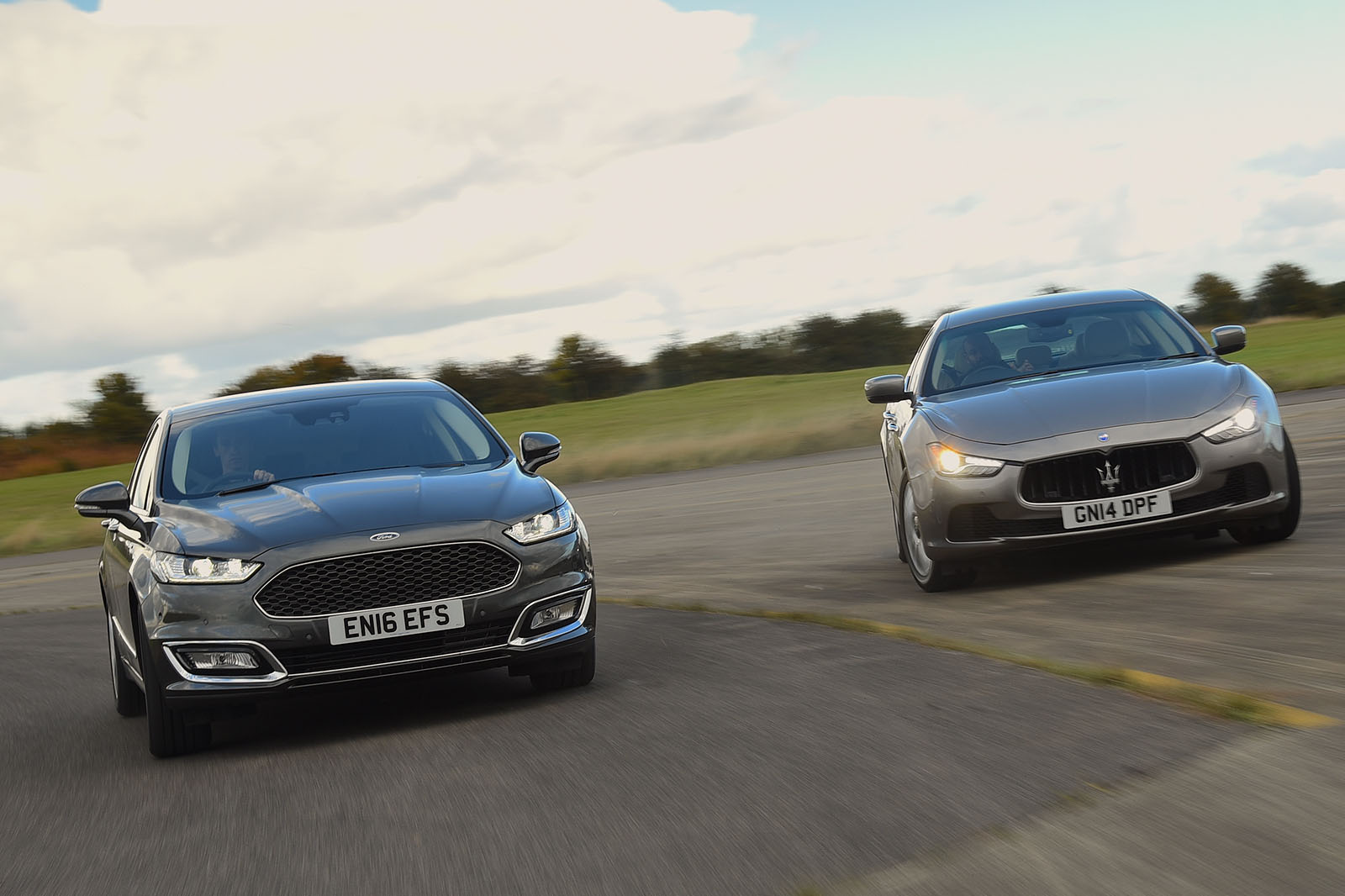 Vignale and Maserati have crossed paths before. Alfredo Vignale's Italian coachbuilding company counted Maserati as one of its clients in the late 1960s, but, after selling the company to De Tomaso, the Vignale name eventually ended up in the hands of Ford in 1973.
Vignale as a moniker disappeared soon after, resurfacing briefly on a Lagonda concept car in 1993 before its most recent revival as an upmarket trim level, which has, helpfully, created an ideal match for this new versus used test.
On one hand, you've got Maserati, a low-volume Italian car maker with a rich heritage looking to move into the mainstream with a lavish diesel saloon, namely the Ghibli. On the other hand, there's Ford, car maker for the people, looking to sprinkle some Italian inspiration on its lineup by creating a sub-brand that appeals to a smaller, more exclusive pool of buyers and stops current Ford owners from disappearing to Audi when they want something a bit plusher. The Blue Oval's offering? The Mondeo Vignale.
The rear-wheel-drive Ghibli from 2014 we have here is yours for £31,975 from used car dealership Junction 17 in Peterborough. The car has 15,000 miles on the clock, so it comes at a good price for a low-mileage example, with sat-nav and front and rear parking sensors. This is a fair benchmark for the new all-wheel-drive Mondeo Vignale it's up against, a car which, at £32,745, is a little more expensive than this Ghibli. The Vignale model is based on a Titanium Mondeo, so it's stacked with kit, but buyers get a comprehensive warranty programme, too. But which does the better job as an Italian (or pseudoItalian) deluxe saloon for £32k?
The Ghibli's Italian flair is obvious in its design, but don't be fooled by its looks: this saloon is not your typical Maserati. It does, however, follow the brand's traditional nomenclature. The Ghibli name first appeared in the manufacturer's range in 1966 and follows a Maserati quirk of naming cars after different winds (the hot, dry Ghibli can be felt breezing its way across the Sahara). In the face of dwindling sales, Maserati resurrected the name for its new saloon back in 2013, then threw in its first ever diesel engine to gobble up sales in a more mainstream market. And the car delivered, jumping straight to the top of Maserati's sales charts.
But in appealing to the masses, the Ghibli lost some Maserati charm. Step inside and at a glance it's awash with leathers and woods, and there's a classy analogue clock. However, look a bit closer and some of the fake wood inlays have been rather crudely fitted, while the infotainment system, which is only a couple of years old, already feels about as ground-breaking as a Nokia 3310 at an iPhone launch.
It still feels more special inside than your run-of-the-mill saloon, though. Not better than the Germans but at least different, and there's certainly a whiff of Italian swagger clinging to the cabin.
Fire up the 3.0-litre V6 diesel and the noise is disappointing, but what did you expect? This is the entry-level version aimed at fleet buyers chasing economy rather than thrills. Wind it up and performance is brisk, but it never feels particularly involving and the engine is gruff. There's plenty of road and engine noise to contend with, so it isn't particularly relaxing, either, but it is at least well planted at motorway speeds (which is more than can be said at low speeds, due to the jittery ride). It's certainly not a struggle for the engine to haul the car up to cruising speed, but the uninspiring diesel soundtrack makes it feel like a bit of a blunt instrument. Not that Ghibli buyers seem to mind, with 90% of them plumping for this engine.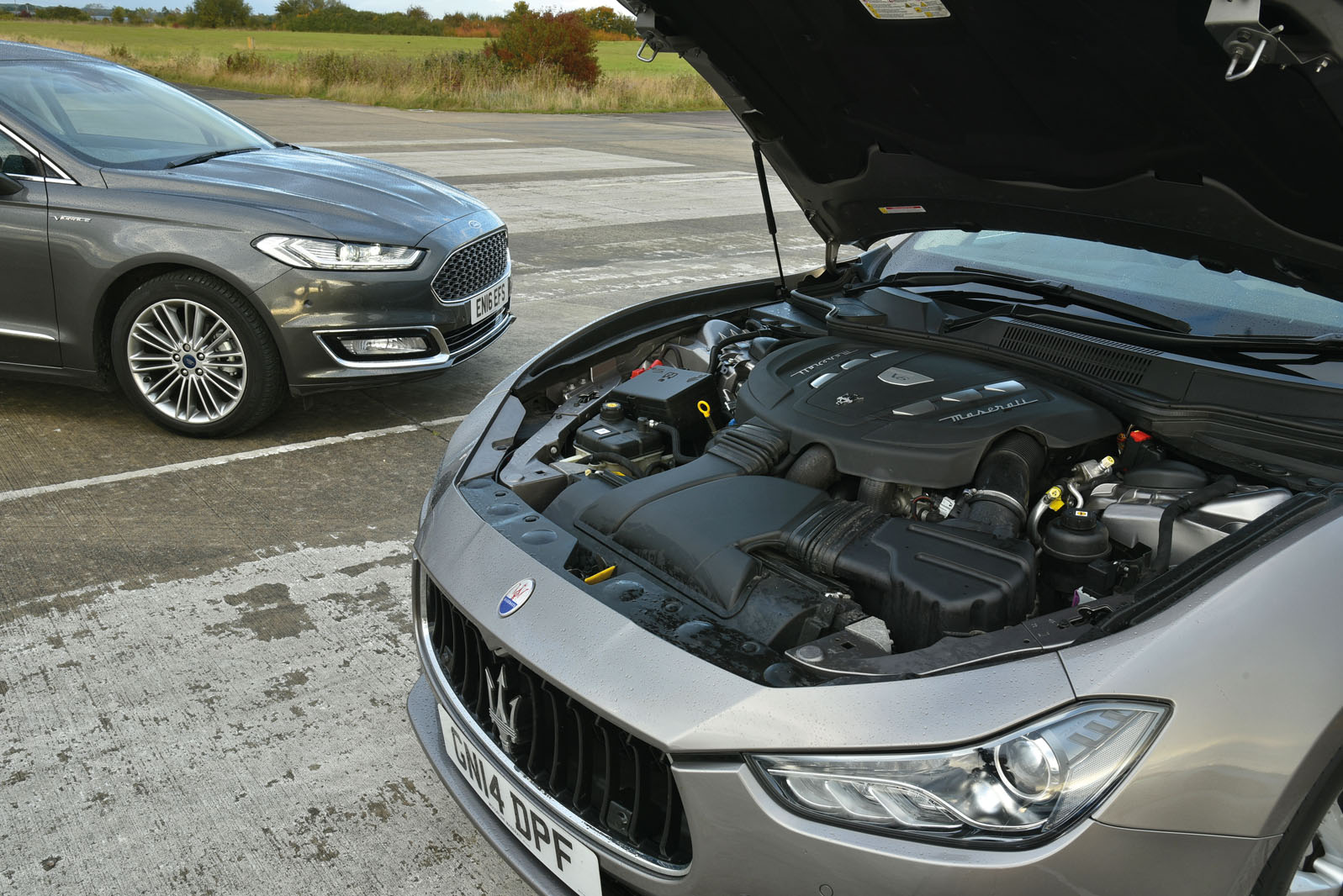 Anything other than a straight line shows a few more weaknesses. The Ghibli is a heavy beast, weighing 1835kg – around half a G-Wiz more than the Mondeo or a BMW 5 Series. That extra bulk is noticeable through the heavy steering, which, despite being hydraulically assisted, doesn't offer much feel. Turn-in isn't very sharp, either, so the car lumbers around corners. You can feel it's rear drive, too, especially when accelerating out of damp junctions on greasy asphalt as the back tyres scrabble for  traction, but it never really approaches anything that you could describe as fun. All in all, it's not the polished, finely tuned, extravagant event you'd expect from a manufacturer of such repute.
Does the Vignale feel like the real deal? First impressions in the cabin are promising. While the Maserati may have some questionable fits here and there, the Mondeo feels plush, durable and well equipped, if lacking in overt flamboyance.
Everything is functional, everything seems to be of good quality, and it's very practical. There are handy storage bins dotted around front and back, plus there's decent space in the back – unlike in the Ghibli, which would make Bilbo Baggins think twice before accepting a lift in the rear cabin's middle seat.
Start the Ford up and, instead of a 3.0 V6, there's a 2.0-litre four-cylinder diesel powerplant that is some 100bhp less powerful than the Maserati's V6, making the Mondeo almost three seconds slower to 62mph from a standing start. But where the Maserati feels a bit sloppy in its handling, the Mondeo is sharp, agile and light. It's also very quiet. You're nicely insulated in the cabin, with only some light diesel groans creeping in when you're wringing the engine's neck.
The Vignale mission statement is to offer an exclusive, premiumfeeling product for Ford customers, encouraging people to hold the brand in the same esteem as highend German rivals. The differences from the standard model aren't mechanical, though. It gets a fancy hexagonal grille, which does look rather flash, and comes stacked with gear, such as a 12-speaker Sony sound system, electrically adjustable and heated seats and a full leather interior. Along with the kit, you get other Vignale extras, such as a 24-hour helpline and collection from your home when the car needs servicing. But essentially this is a jazzed-up Titanium model.
With no mechanical differences, it means it's only these cosmetic and kit flourishes that make this car feel any more special than a standard Mondeo. It's like when Barry from HR had that six-month sabbatical in Australia. He might have come back with a tan and now occasionally wears floral shirts, but he's still Barry from HR.
But there's nothing wrong with Barry. The Mondeo is a plain but pretty sweet-handling saloon, and the all-wheel drive system, which most of the time sends power solely to the front wheels, makes it feel more composed through the corners than the Ghibli. The six-speed dual-clutch automatic gearbox does a good job of keeping things smooth, too. But it's still a Ford, and it never threatens to tug at your heart strings the way a Maserati might, diesel engine or not.
There's an elephant in the room for both cars, though: depreciation. The used Maser has already lost a sizeable £16,000 – or 30% – of its value in just two years, but there's still a long way to go. You can expect a similar drop from the Vignale. Its less desirable badge and tech-laden cabin mean it's only going to be a hit on the used market once it becomes cheap, which means that if this is the used car in our 2018 feature (and it might well be), it could cost around £23,000.
Which wins? Well, ultimately, as much as it would be great to swan around in a Maserati for £30k, the Mondeo, with its superior handling, plush interior and the Vignale warranty programme, is a much more recommendable car, even if it's not as romantic.
USED: KTM X-Bow
NEW: Caterham Seven
These tests are always utterly straightforward. In the good half a dozen or more new versus used features I've written, the outcome has always been the same: you buy the used car.
For why? Because I always think car ownership is more pleasing if you invest some time and emotion into it, rather than just signing up to a direct debit and driving the thing. And, yes, perhaps the odd unexpected expenditure will come your way, but the chances are that you'll be driving something more interesting and more classy than the new alternative and which will have dispensed with the heaviest part of its depreciation. In the long run, then, you'll pay less for it and enjoy it more than you would a new car. Simple arithmetic, simple advice, every single time.
Today's used car is a KTM X-Bow in GT specification (KTM doesn't mind whether you say ex-bow or crossbow), which lists at €95,880, or £82,600, new, before delivery and on-the-road costs. Just as well it isn't the 'new' car here, then, because the exchange rate change in the past few months has done its list price no favours. Even before that, though, it was a large chunk for a two-seat track day special with no luggage space.
The KTM has always been quite a rare groove. There are only ever half a dozen or so on sale in the UK at a time, and there have been quite a lot of different editions since the model's launch in 2008. All share the same basic layout. The X-Bow is expensive because it has a full carbonfibre tub, with a turbocharged 2.0-litre Audi engine and gearbox in its middle, driving the back wheels. This version, the GT, is in effect the mainstream variant these days. At launch, the X-Bow's exposed cockpit meant that wearing a crash helmet in it was pretty much essential, but even then there was a huge amount of wind buffeting. The GT received changes to allow the fitment of a windscreen and doors, which, after a heater and wipers have been added, makes it 57kg heavier than the standard car, although it still has a dry weight of just 847kg.
Our new alternative is a Caterham Seven in 620S form, making it one of my favourite versions of a car for which I already have an inordinate amount of time and affection. The 620, which can be had in R or S specifications, has a supercharged 2.0-litre engine making a faintly ridiculous 310bhp at 7750rpm.
The S is, Caterham says, 'mildly saner' than the R, in that it's a mite more comfortable, although we're talking relative, Caterham terms here. It's a £45,795 car but, as is the way with Caterhams, that depends on what you want on it, or in it, so the price lifts gradually upwards and upwards. This S is a narrow-bodied Seven, which I prefer to the optional wider chassis because it's more agile, as well it might be, given that the car weighs less than 600kg as standard. There are loads of seat, trim and weather gear options, and I'd be inclined to tick most of them, to make the Seven as usable as it can be for as much of the year as possible.
I hadn't driven a GT variant of the X-Bow before, but the car brought to us by Grant Smith, who bought it from KTM London in Tunbridge Wells (08448 099 943), is an immaculate example.
This GT isn't far from its 281bhp standard form, but there are about £5k of options on it, namely a bigger front splitter and the vast rear spoiler. Beyond that, Smith has made a few modifications himself. It has a £250 induction kit, which makes it a touch louder than standard, he has fitted an alarm and, having found the gearbox to be getting a touch warm on track days, which is primarily what the car is used for, he has fitted a blower near to it with a thermal switch.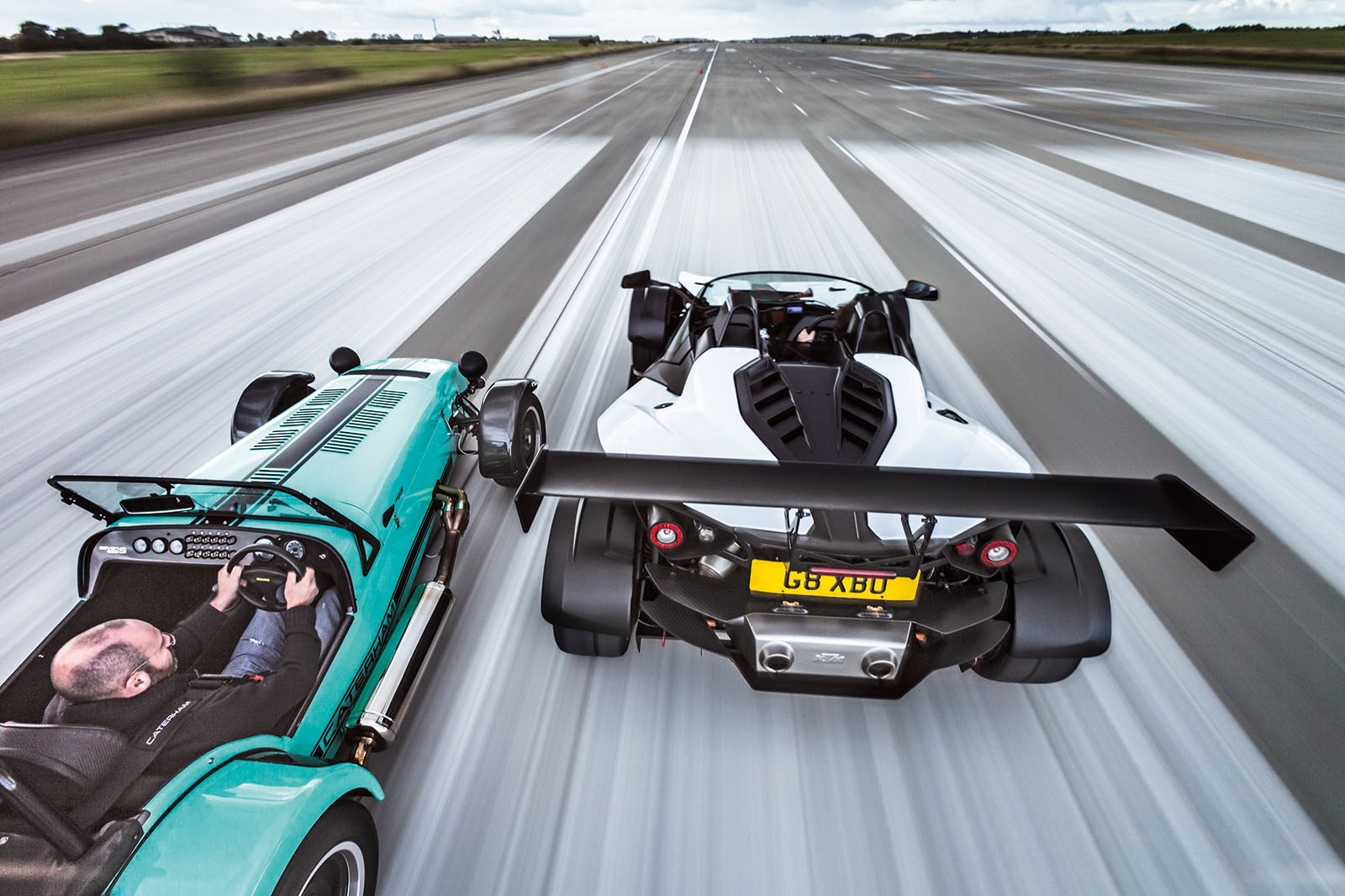 When it arrives, the X-Bow has its diddy hood in place; apparently, it tries to fly off at cruising speeds. Smith has added strips of Velcro around the edge of the hood and the top of the windscreen, which means it now stays put for as long as you like.
However, the X-Bow is better experienced with the hood down, at which point I can scarcely believe how little wind buffeting there is. The standard X-Bow is one of the world's least refined cars because of the buffeting, but with the screen in place, the problem all but disappears. I don't think I've driven a convertible that does it better, in fact.
Freed from the assault, it's now much easier to focus on the things the KTM does well. Its ride is tight and composed and it steers beautifully: linearly, positively, with masses of feedback. I suspect this is improved by Smith's fitment of sticky, track focused Toyo Proxes instead of the standard road-biased tyres.
There's still a little turbo lag, but the induction kit means the aural experience is less dominated by fizz and whoosh from the turbocharger. And the car corners incredibly keenly. There's some progressiveness to the way it handles – bags of grip is followed by an unsettling of the rear – and the X-Bow remains a car whose balance you've got to respect. It's more 'karty' than any road car in recent memory, and in this specification, it's bang on; I enjoyed Smith's X-Bow GT more than I've enjoyed any other KTM in the past. It's absolutely terrific.
And then there's the Caterham, which does what Caterhams do, only at warp speed. The response of the supercharged 2.0-litre engine is brisker than the KTM's, and its handling balance is more instantly adjustable for that reason. If you're in the mid-range and above, any gear in the five-speed gearbox is plenty to adjust its line on the throttle.
It steers brilliantly, too, although its faster rack and smaller steering wheel, which make the rack heavier, plus compromised ergonomics everywhere else on account of its tiny size, make the Seven feel its age next to the KTM, which has an adjustable steering wheel and pedal box and more room to use all of its controls.
Either car is expensive to buy outright, even used, although these are not necessarily expensive cars to run. Smith does an oil change every third track day, in addition to having the car regularly serviced. Both the KTM and Caterham have tweaked versions of mainstream production engines, so unlike supercars of this kind of cost, overall running costs are reasonable, although if you bin an all-carbonfibre KTM on a circuit the bill can be quite large. Both cars hold their value well, too: no KTM seems to get cheaper than £35,000, even a very early one, while Caterhams benefit from legendarily shallow depreciation curves.
In the end, then, used doesn't necessarily trump new for the umpteenth time in one of these features. In fact, I'm almost prepared to call it an honourable draw. Almost. For me, though, the Seven remains – by a much smaller margin than I'd anticipated – the better, more agile and adjustable car to drive, which tips the balance in its favour. But if you like the idea of an X-Bow, particularly in this GT form, I don't think you'd regret it for a second.
USED: Lotus Evora
NEW: Audi TT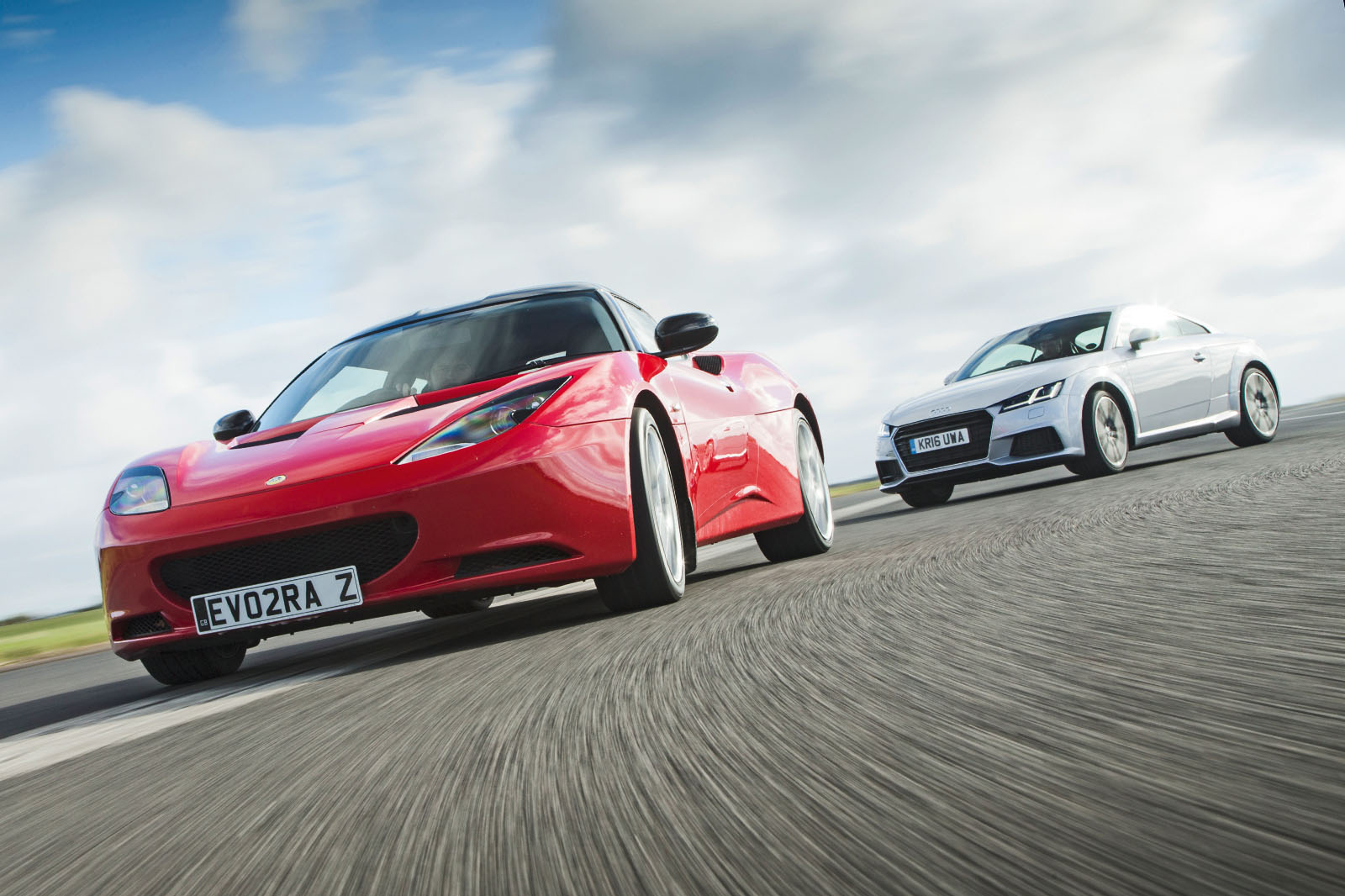 It's seven years since the Lotus Evora appeared, and although consensus says 2010's supercharged S is superior, the original, naturally aspirated version was still good enough to take our Best Driver's Car crown in 2009. You can't buy a non-supercharged Evora new these days, but with early examples having lost £20,000 of their £50,000 list price to the winds, the car we branded a 'handling benchmark' has never been so tempting.
But much has changed in the interim, including the emergence of the third-generation Audi TT – a car that handles better than ever and which comes packed with technology the Evora would study as a marmot might ponder a weaponised laser. Your £30k scoops a box-fresh 2.0 TFSI Sport manual with 227bhp.
Aside from sharing the same number of wheels, doors, pedals and seats, these two couldn't be more different. The Lotus has a specialised bonded aluminium chassis and a mid-mounted, unblown, 276bhp 3.5-litre Toyota V6 powering the rear axle, while the Audi is a child of platform sharing and its turbo four-pot drives only the front wheels (quattros cost from £33,600). But our quandary is simple: can the aged Evora's dynamic skills stave off the new TT's charms?
The TT you see here wears S line trim at a £2550 premium, so is a little over budget, but the mainstays of its interior opulence are echoed by the £30,650 Sport model, with neatly stitched and supportive leather and Alcantara seats, quality plastics, chic dashboard architecture and exemplary robustness. Then there's the standard-fit 12.3in Audi Virtual Cockpit, the party-piece, binnacle-filling chameleon of a display that replaces conventional dials and infotainment with a single animated screen. It's feature-packed and pretty, but a little fiddly, and its graphical shenanigans when toggling the Drive Select modes for engine, engine sound and steering can irritate.
App developer Si Fisher's 2010 Evora 2+2 is a 59,000-miler that's on sale for exactly £30,000 (call him on 07525 747813 if you're interested). It has the Tech pack that features satnav and rear parking sensors – both extras in the Audi – and the Sport pack with raised rev limit, special diffuser, titanium tailpipes, crossdrilled discs and an oil cooler.
Parts-bin column stalks aside, there's hardly any interior plastic – it's all leather (good quality and wearing quite well), aluminium (on the smart but haptically inert and oftobscured buttons) and scratchy black fabric where you'd expect scratchy black plastic. Annoyingly reflective and chunky red LCD screens flank the dials, and the 7.0in Alpine touchscreen features Space Invader graphics. It's all ageing premium economy against the Audi's moddish business class. But once you've learned the weird switchgear layout, it's tenable, and while the cabin is narrower than the TT's and the view out less generous, the enveloping leather Recaros are comfortable and the driving position is good.
Both have painfully small rear seats, although you could perhaps let your children grow another year in the Audi's. The TT easily wins for boot space, too: you can fold the rear seats for 712 litres of storage, while the Evora's cigar-shaped hold swallows just 160 litres.
The Lotus is a full second quicker to 60mph, but while its superior traction, natural aspiration and greater capacity make it swifter off the line and lustier at really big speeds, a rolling sprint from 30mph in third gear reveals comparable mid-range performance from the Audi. Turbo lag hampers the TT initially, but it pulls strongly from 1500rpm and still feels game towards the 6900rpm limiter, the exhaust-biased soundtrack gaining volume and aggression en route. The engine impresses for its kind, but the Evora's V6 is in a class above, pulling well from low revs with racy induction notes rising above its more interesting exhaust noise, intensifying in howl and motive force as the valve timing shifts just above 4000rpm. You'll want to explore the remaining 3000rpm repeatedly, often with the driver's window down to catch the full fanfare.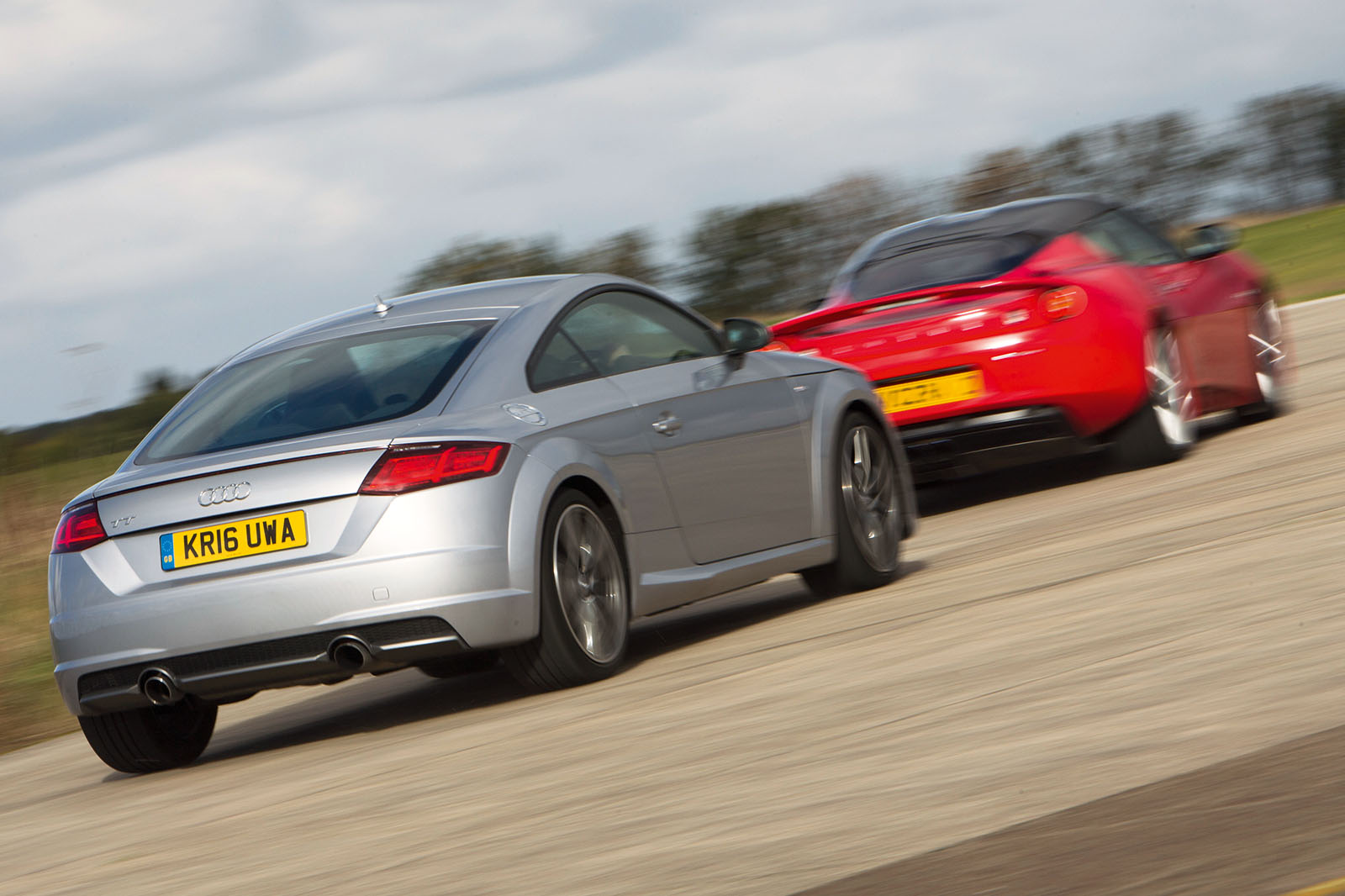 The Evora's oft-maligned Toyota gearbox doesn't struggle in this company, either. It won't be rushed but is fairly fluid and feels reassuringly mechanical beside the TT's remote, rubbery action, while heel-and-toeing is second nature. It also has better brake feel, but the Audi's stoppers are more effective.
With 19in rims and passive, 10mm-lowered suspension, S line trim doesn't help the TT's ride. It's a firm set-up that jostles a bit in town but is better at speed, until you encounter sharper ridges and feel a cringing thud through the chassis. The Sport model's 18in wheels and standard springs would be better, but they couldn't touch the Evora's astonishing talent for dissolving the same imperfections. There's a little more roll, but turn in purposefully and lean with confidence on the front end and the Evora settles in. It absorbs whatever the surface brings, letting you exercise the steering and throttle – both indulgently responsive – to sweep decisively through apices before rolling the power on early, the 255mm-section rear tyres unflinching on a dry road.
The Lotus's hydraulic steering is light but gabby. It tramlines a bit and there's some kickback, but it's a price worth paying for the engagement. It's also hugely preferable to the TT's electric set-up, which is heavier than the Evora's in Dynamic mode but sparse on feel. The Audi's helm avoids outright torque steer but tightens when accelerating in lower gears. Traction impresses in the dry, but steering angle, uneven camber and wet weather all gnaw at this, while the stolid chassis needs track-worthy lift-off to even twitch its tail.
Everyday manners are best in the Audi. The exhaust drones a bit in town and on throttle at a cruise, and there's some tyre roar, but it's more refined overall than the Evora, which suffers urban suspension knocks, high-speed tyre and wind noise and even some scuttle shake.
The sternly effective Audi is arguably better value – it's the superior product, hewn of finer materials with faultless precision and augmented with the latest tech. It even bears its front-drive cross admirably. But while the Evora isn't nearly as slick, it's liveable enough, and remains a dynamic joy you can exploit even – and, in fact, especially – on our shoddy backroads. It remains an absolute wonder, and a clear win for the classifieds.
Richard Webber, Doug Revolta and Matt Prior
Source: Car
Write

a Comment
Fields with * are required