Vauxhall

Crossland X heads five new models confirmed for 2017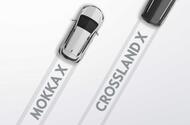 The Crossland X will sit above the Mokka X
The Crossland X small SUV will fill the void left by the departing Meriva in Vauxhall's 2017 line-up; it'll be joined by another new, larger SUV and three Insignia variants
The Vauxhall Crossland X has been confirmed as a new SUV due to sit above the Mokka X in Vauxhall's 2017 line-up, and is one of five new models to be added.
The Crossland X is described as a family-friendly urban vehicle "with enough comfort and performance to cover long distances at the drop of a hat", suggesting it will fill the gap left by the soon to be discontinued Meriva MPV and sit below an upcoming Zafira-sized SUV that's also due next year.
Alongside these two new SUVs in 2017 will be three varients of the all-new Insignia. The first, the flagship Insignia Grand Sport, will be a five-door hatchback with a coupé-like roofline and, in top-end models, four-wheel drive. Autocar recently sampled a prototype version of that car's system at a GKN event.
The second model will be an Insignia Sports Tourer, which will take influence from the design of the Monza Concept of 2013, while the third will be a four-wheel-drive Country Tourer.
Following these in 2019 will be a larger, flagship SUV, as imagined by Autocar in the picture above, to rival the Nissan X-Trail.
Rory Harvey, Vauxhall's chairman and managing director, said of the Crossland X: "Our customers' expectations are changing, so the timing is perfect for an additional model in the Vauxhall range that caters for a new breed of buyer.
"2017 will be a landmark year for Vauxhall. Our portfolio will grow, but it's the quality and innovation underpinning our new products that will surprise customers."
Vauxhall says its future range will draw in new customers with a more premium brand image.
Source: Car
Write

a Comment
Fields with * are required