Why

the Mercedes-Benz Unimog's 70th birthday is a big deal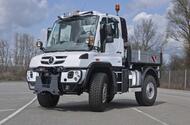 The latest Unimog evolves a 70-year-old design
Mercedes-Benz's iconic workhorse entered its eighth decade yesterday; we consider why the Unimog is so important
The first Mercedes-Benz Unimog, a bodyless prototype called Unimog Prototype 1, rumbled into life 70 years ago on 9 October 1946.
Remarkably, that original post-war development model still serves as a template for new Unimogs that are produced today, and while back then it represented a recovering Germany, today the model illustrates the strength of the world's leading automotive nation.
Since that defining prototype run, 400,000 Unimogs – or Universally Applicable Motorised Machines – have been built, with more than 30 different versions being used for essential transportation of goods, food and industrial products in every far-flung corner of the world.
The car's then innovative four-wheel drive system featured front and rear differential locks, as it does today, enabling the Unimog to transport products through the toughest of terrains and be used in jungles, mountains and deserts in roles including military vehicles.
Some countries have also provided their fire fighters with Unimogs, and off-road competitions like the Dakar Rally have featured several.
Of course, you'd be hard pressed to describe a Unimog as luxurious, and even harder pressed to describe one as pretty, but its rugged, work-focused look has become synonymous with reliability and dependability.
The latest Unimog models take inspiration from a concept that was revealed to celebrate 60 years of production. The 2011 concept was an open-top two-seater that previewed a new design language that has been applied to models today. The next production Unimog range, the U4023 to U5023 models, build on this look again.
More importantly, it looks like these soon-to-arrive models will continue to work hard in essential areas of development with more standard-fit features like self-inflating and deflating tyres to improve off-road ability and reliability further more.
While the 70th anniversary of this model will make us look back at its past, there are clearly still plenty of reasons to look forward to its future too. Happy birthday, Unimog.
Source: Car
Write

a Comment
Fields with * are required