World

Rallycross: why Mattias Ekstrom is hooked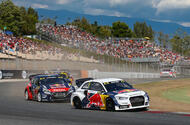 World Rallycross has quickly established itself as one of the most spectacular forms of motor racing; we speak to its fastest driver to find out why
Few other sports can match World Rallycross for its sheer spectacle.
The speed of the cars, the frenetic pace of the racing and the amphitheatre-like circuits make for epic entertainment. A Formula 1 grand prix looks like an endurance race in comparison.
Perhaps because of this excitement, many top drivers have joined the FIA World Rallycross Championship despite its relative infancy; it has been running for only three years in its current format. This season's favourite for the World RX title, Mattias Ekström, is one of the most experienced drivers on the grid and also one of the sport's greatest ambassadors.
"You always have to go for full attack in a rallycross race," says the Swede, who also races in the DTM touring car series alongside his rallycross duties. "If you don't, you'll look pretty stupid. These cars are fun, fast and wild. For sure, they're the ones that make me smile most."
Ekström, who has two DTM titles and six World RX wins under his belt, is joined by other massive motorsport names on the World Rallycross Supercar grid, including nine-time world rally champion Sébastien Loeb, 2003 WRC champ Petter Solberg and Mr Gymkhana himself, Ken Block. That's one heck of a driver line-up.
"The racing with these guys is all heat of the moment, so you have to always be sharp and see if there's a chance," explains Ekström. "It's so different [from circuit racing], because there you have a strategy, but here it's more instant."
THE CARS
Ekström's EKS team currently sits at the sharp end of this season's championship table. Ekström and team-mate Toomas Heikkinen drive Audi S1 quattros, and their main rivals include the Petter Solberg World RX Team and its Citroën DS3s, Block's Ford Focus RS-wielding Hoonigan Racing Division and Team Peugeot-Hanson, for which Loeb drives his Peugeot 208.
While the cars look like modified road models, they are, in fact, thoroughbred racers with around 550bhp at their disposal. Ekström's S1, for example, is built around the reinforced steel body of a regular S1, but the car's turbocharged 2.0-litre four-cylinder engine and chassis set-up have been re-engineered for ultimate racing performance.
The cars are arguably more of a draw for spectators than the allstar driver line-ups. Their brutal performance mixes with BTCC-like bumper banging and F1-aping straight-line performance to create a unique motorsport concept – but it's not a coincidence that World Rallycross is like this.
Series regulations are designed to bring the performance of the championship's vastly different machines closer together, and so World RX enforces the fitment of air restrictors to engines.
"If we didn't have to run restrictors, the cars would be much faster," reveals Ekström. "The championship makes us run a 45mm air restrictor on the S1, which takes away a lot of power. Way more than 600bhp would be possible without them."
Top Trumps players may dislike the horsepower-hampering use of restrictors, but there's no denying their effectiveness. Despite the variable nature of the circuits, where surfaces change lap by lap as rubble and stones are displaced, lap times are often separated by hundredths of a second.
THE TYRES
Tyres also play a big part in keeping the racing close. The World Rallycross series employs a single control tyre supplier, Cooper Tires, which provides just one dry and one wet compound at each round, removing any form of rubber advantage from the equation.
"A lot of people don't know this, but our rallycross tyres are actually crossplies – an old technology," says Matthew Vincent, Cooper's development chemist.
Vincent explains that while the crossplies don't generate the peak grip levels of radial tyres, their performance doesn't drop off anywhere near as quickly, offering more consistency and predictability over the course of a race and therefore enabling the drivers to push to the limit for a six-lap final's entirety.
In total, each car gets an allocation of 16 tyres, made up of eight dry tyres and eight wet, for every championship weekend. The dry tyres are so soft that their rubber feels like chewing gum to touch when hot, but this softness doesn't mean they're delicate.
"We had to add strengthening materials into the sidewalls to cope with the wheel banging," says Vincent with a laugh. "Rallycross tyres have to be tough."
THE RACING
Alongside the tyres, drivers and technical regulations, there's one other race feature that sets World Rallycross apart from most mainstream forms of motorsport: the joker lap.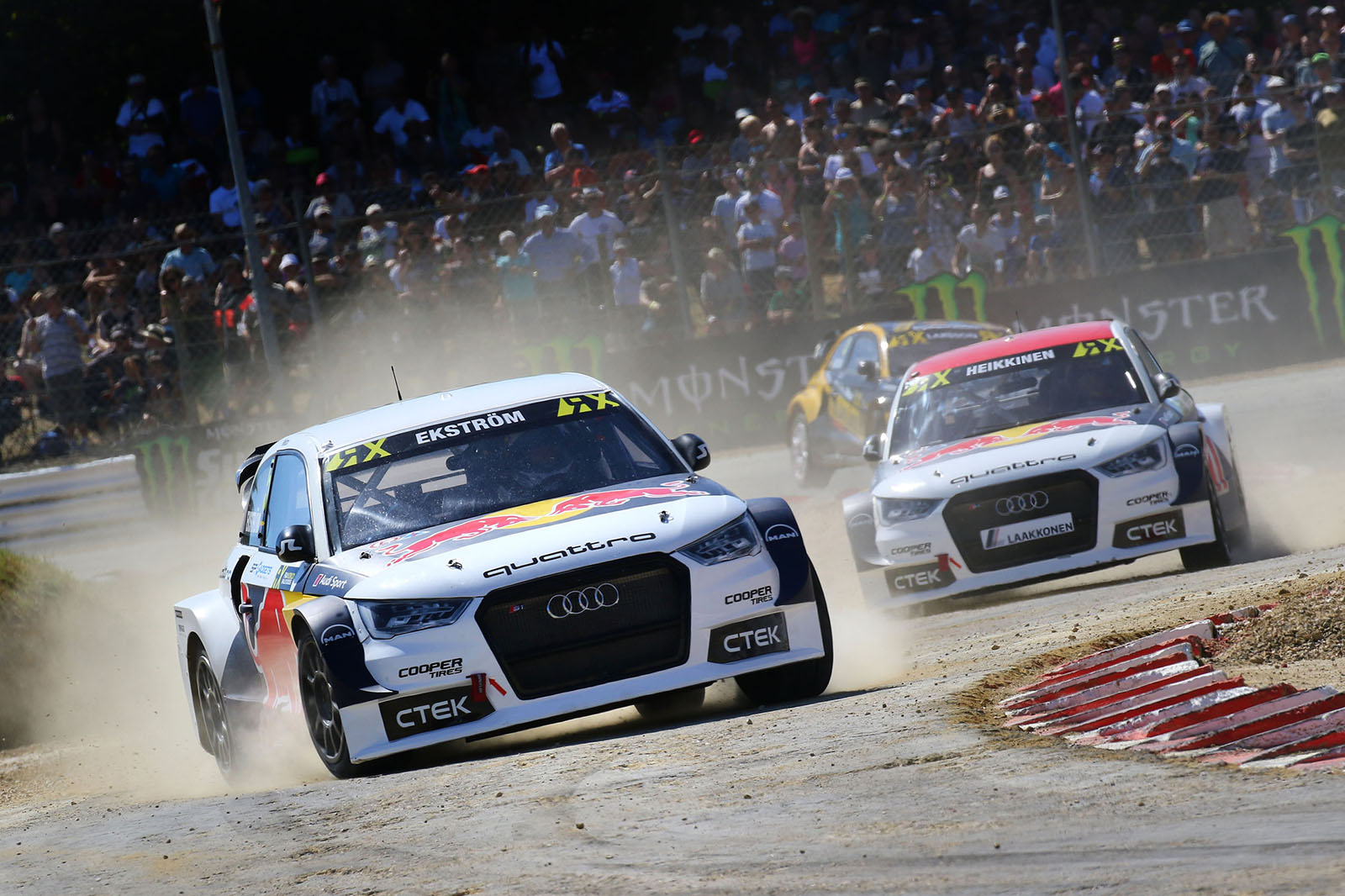 Each driver is required to complete one lap of their race using an extended part of the track, and at the recent Spanish round at the Circuit de Catalunya in Barcelona, this extra section of track pushed the last corner out by about 50 metres.
The joker lap feature not only mixes up the racing with varying tactics but also makes for unpredictable results. Without it, the racing would no doubt still be fantastic, but with it, there really is no guessing who will win. It's no surprise that Ekström is hooked on rallycross.
With an enviable CV of professional motorsport experience, he could easily land a drive in another top series, but the championship-leading Swede wants to stay put.
"The competition is closer than normal and you see the support from the fans really growing," says Ekström. "I can't tell you how long I will stay here, but as long as I'm competitive I want to stay in rallycross. I will enjoy racing here a lot into the future. I really love it."
Source: Car
Write

a Comment
Fields with * are required