Zotye

SR9 is a Porsche Macan clone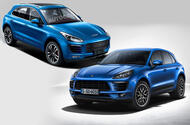 Revealed in Beijing, the Zotye SR9 takes advantage of relaxed Chinese laws to copy the look of Porsche's Macan
Chinese car maker Zotye Auto has unveiled the production version of its controversial SR9, revealing a five-door SUV that closely resembles the Porsche Macan.
Set to go on sale in China on Wednesday at a price around £12,300, the Zotye SR9 will initially be sold with just one engine – a turbocharged 2.0-litre four-cylinder petrol unit sourced from Mitsubishi developing 187bhp and 184lb ft of torque.  It drives through a standard five speed manual or optional six-speed dual clutch gearbox.
A smaller turbocharger 1.5-litre four-cylinder petrol engine delivering 148bhp and 104lb ft is planned to be added to the SR9 line-up in 2017.
Despite threatening legal action when the new Zotye was shown as a concept back in 2014, Porsche is yet to officially sue for copyright infringement, according to officials at its German headquarters in Stuttgart.
Autocar's exclusive comparison pictures reveal the extent of Zotye's plagiarism. As well as copying the overall proportions and silhouette of the Porsche Macan, the SR9 also features similar shut lines and exterior detailing.
The interior of the SR9 also bears close similarities to that of the Macan.
At 4744mm in length, 1929mm in width and 1647mm in height, the Zotye SR9 is 63mm longer 6mm wider and 23mm higher than the Porsche Macan. It also rides on a 43mm longer wheel base than the car from which it is clearly inspired at 2850mm.
Zotye is well known for its plagiarism of successful car designs. The Yongkang-based car maker current sells the SR7, which is heavily reminiscent of the Audi Q3 and the T600, which is styled to resemble the Audi Q5. Other copycat models within its range include the Damai X5, a close take on the Volkswagen Tiguan, and the recently unveiled Damai X7, a clone of the Volkswagen Crossblue Coupe concept.
Zotye Auto was founded in 2005.  Its first model was the RX6400, a compact SUV bearing a close resemblance to the Daihatsu Terios R.
More copycat models:
History of the Chinese copycat car: picture gallery
2015 Landwind X7 – Chinese Range Rover Evoque clone revealed
JLR continues legal battle against Landwind
Source: Car
Write

a Comment
Fields with * are required